The threat of British Prime Minister Theresa May possibly facing a no-confidence vote in her leadership will heavily influence the Pound this week.
Sterling has had it rough in recent days thanks to the combination of Brexit-related uncertainty and increased political instability in Westminster. With Theresa May's Brexit battle set to rage on this week as she seeks backing from British business on the EU deal, Sterling could be in-store for another rollercoaster ride.
A scenario where a vote of no-confidence becomes reality may be detrimental to Brexit talks, as a change of leadership at such a crucial stage will only create further uncertainty – ultimately complicating negotiations. Even if Theresa May is able to overcome this trial, the next major test will be getting her deal through Parliament.
The GBPUSD edged slightly higher this morning after the EU's chief Brexit negotiator proposed an extension on the Brexit transition period until 2022. Regardless of recent gains, the upside is likely to be limited by Brexit uncertainty and political risk in the UK. All in all, the Pound's fortunes clearly hang on the Brexit outcome and this continues to be reflected in price actions. In regards to the technical picture, sustained weakness below the 1.2910 level is likely to inspire a move back towards 1.2750.
Commodity spotlight – Gold
One would have expected Gold to stand out today due to Brexit-related uncertainty, US-China trade tensions and a softening US Dollar.
However, we are seeing the opposite as the yellow metal struggles to keep above $1220 as of writing. The weakness observed in Gold could be the product of profit-taking and expectations of higher US interest rates. In regards to the technical picture, prices are trading within a bullish channel on the daily charts. Gold remains somewhat supported above $1,213, with an intraday breakout above $1,224 likely to inspire an incline towards $1,233.50.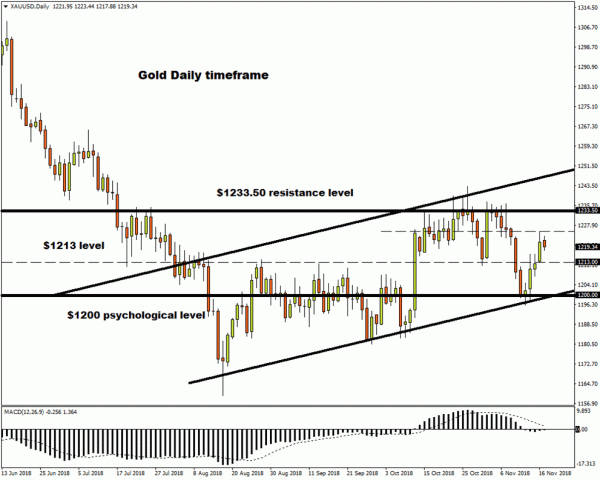 Bitcoin tumbles to 13-month low
Bitcoin collapsed like a house of cards on Monday with prices tumbling below $5,300 as of writing. While most are blaming the Bitcoin cash "hard fork" as a key player behind Bitcoin's weakness, technicals could have played a role. The weekly close under the $6,000 level was a bearish confirmation of further downside. The cryptocurrency has scope to extend losses if sellers are able to conquer the $5,000 level.