China stocks cheers MSCI's increasing weight of national companies, but technical analysis for China A50 and SPX points to potential exhausting of the rally
China on the rise
The Chinese market's correction quickly ended with news that MSCI increasing weight of national companies. After the release of this news, key Chinese indices add more than 2%: speculators seek to outpace the funds which will increase their share in Chinese companies in accordance with their policy of following the MSCI benchmark indexes.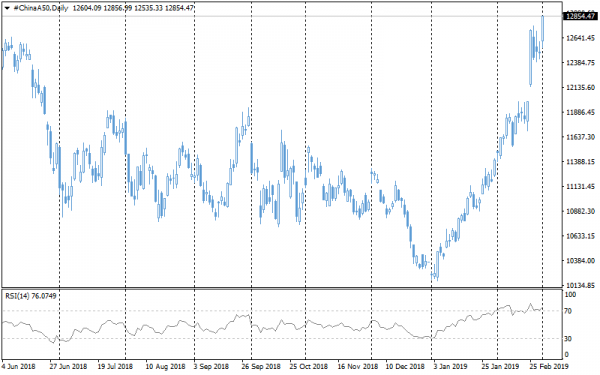 The China A50 Blue Chip Index jumped nearly 3%, abruptly ending the correction and refreshing the highs since April last year. Such a strong impetus may be the reason for further inertia strengthening during the next few trading sessions. But nevertheless, a more rational strategy is not to succumb to a short-term surge, otherwise, it is possible to fall into the category of buyers at the end of growth.
But not too strong potential right now
On daily charts, the RSI remains above the 70 for China A50, remaining in the overbought area, which creates the threat of a quick correction.
Fresh business activity estimates were quite controversial. Financial markets have traditionally paid more attention to the manufacturing sector. The official PMI estimates were, in this case, the lowest in 3 years, dropping into the territory of the recession. The services index did not meet the forecasts but remains in the expansion territory.
Surprisingly, against this background, Markit's published estimates came out noticeably better than expectations, reinforcing the markets positive tone on Friday.
SPX one more time near important resistance
Moderately positive statistics came out in the United States. As a result of higher-than-expected growth estimates in the fourth quarter, the demand for the dollar and American stocks increased. The S&P 500 returned to the mark near the important resistance at 2800. At the end of the week, its dynamics had a significant impact.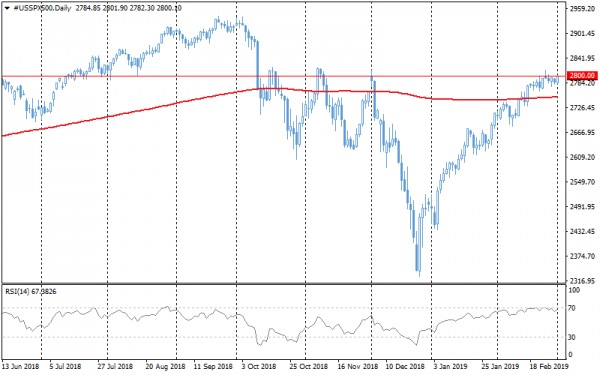 Solid growth above this level may be a reason for further strengthening of optimistic sentiments on the global financial markets. However, the more likely option, in this case, seems to be increasing the investor's caution. As we wrote earlier, the technical analysis notes the extinction of growth momentum, and with a neutral external background, it can become a determining factor for markets, once again causing a wave of profit taking at the end of the week.