Rates: Err on the cautious side for eco data
Key EMU and US eco data will be released today. We still prefer to err on the side of caution. Core bonds have an upward bias this morning, while the S&P 500 shows a tentative bearish engulfing pattern. USD/JPY failed to take out resistance. All this signals suggest more difficult times ahead from a risk perspective.
Currencies: EMU PMI's to keep EUR/USD deadlocked
EUR/USD fails to choose sides recently, oscillating near the 1.13 mark. Markets are looking for clues in data to confirm the growth sentiment turnaround that occurred end of last week. Today's EMU PMI's are in the picture but we warn reading too much in a (modest) recovery. EUR/GBP is set for more technical trading during the parliamentary recess.
The Sunrise Headlines
US equity markets closed yesterday's session little lower with the S&P 500 Index underperforming (-0.23%). Asian equities are tracking WS bourses this morning with Japanese and Korean indices underperforming.
The US and China have set up a new timeline in their trade negotiations. They planned two rounds of face-to-face meetings to wrap up the deal end of April/early May and aim for a signing ceremony in late May or early June. (WSJ)
A Japanese official said that Japan's government could postpone a sales tax increase for a third time if economic conditions deteriorate further. Meanwhile, the Nikkei PMI manufacturing slightly rebounded in April, from 49.2 to 49.5.
The US Fed's Beige Book saw a "slight-to-moderate" pace of growth in recent weeks, while some sectors expect growth to pick up in the coming months. The survey also shows moderate wage growth and tight labor markets.
Australia's economy added 26k jobs in March, rebounding from a 7k drop a month before, spurred by 48k new full time employments. The participation rate increases to 65.7%. Aussie dollar gains remain muted.
North Korea said it had tested a new short-range tactical weapon. While the description doesn't suggest the weapon is of any nuclear kind, it does send a message to the US about the risk of allowing talks to fall apart.
Today's US eco calendar contains retail sales (Mar), the Philly Fed business outlook (Apr) and jobless claims. PMI's are printed for the EMU, Germany and France. Fed's Bostic speaks today. Corporate earnings season continues
Currencies: EMU PMI's To Keep EUR/USD Deadlocked
EMU PMI's to keep EUR/USD deadlocked
Strong Chinese growth data yesterday prompted a recovery of EUR/USD above 1.13. The move's momentum quickly stalled however. A turnaround occurred during early European hours. The couple eventually closed just an inch below 1.13 (1.1296) amidst a lacklustre US session, yet still up from Tuesday's 1.1281. Germany cutting its growth outlook again can at least partially explain yesterday's price action. Markets weren't impressed by the Fed's beige book which showed its districts aren't too negative going forward. USD/JPY held ground above 112.
Asian stocks already wash away part of yesterday's post Chinese growth gains. Most indices colour red in the wake of a rather poor Wall Street performance. EUR/USD oscillates near 1.13, awaiting possibly crucial PMI's later today. USD/JPY fails to retain the 112 barrier (111.87 at the moment). Australia published a strong jobs report. The Aussie dollar spiked to 0.72 but immediately retraced most of the gains.
Today's EMU PMI's are expected to recover in the manufacturing sector after the steep decline in recent months. Services PMI's will probably more or less stabilize. We side with consensus but warn that a (modest) recovery from the current depressed levels, notably in the manufacturing PMI, provides little reason for cheering. US retail sales will probably rebound from a weak February result but we see risks tilted to the downside in core measures due to weatherrelated and Easter effects.
The euro fails to choose sides recently. EUR/USD hovers near 1.13 as the economic situation remains fragile. Today's EMU PMI's are to show signs of bottoming after an impressive decline over the last months. However, we don't expect them to provide much momentum for the euro given the indicators still wander in contraction territory. US data probably won't be very convincing either, keeping EUR/USD deadlocked for the time being. If any, 1.13 might prove difficult to capture/hold. We maintain the view however that a EUR/USD break lower isn't evident.
Slightly softer than expected March CPI in the UK had little to zero impact on sterling trading. EUR/GBP closed a technical trading session in the 0.866's (up from 0.864). Today's retail sales will probably be ignored by markets also. Given the lack of brexit news during the current parliamentary recess, we expect more low-volume, directionless technical trading for the coming days. In a broader perspective we stay cautious on sterling as long as Brexit and the political impasse drags on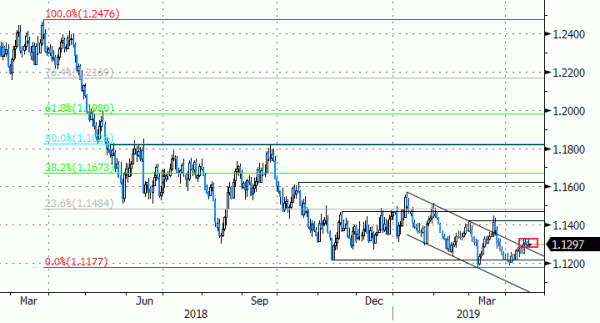 EUR/USD oscillates near 1.13 recently. Are EMU PMI's to break the deadlock?