A new blow to China-US relations was inflicted by the United States, imposing sanctions against Huawei, the Chinese telecom giant. This situation potentially open additional front of trade disputes between China and the United States. Moreover, investors were unnerving by the weak economic reports from the United States. Retail sales fell by 0.2%, although growth was expected. Industrial production declined by 0.5%, while Crude Oil inventories rose. All this may be evidence of a weakening of demand in the largest global economy. As a result, the demand for protective US government bonds increased. The increase in their prices caused a decrease in yield to the lowest levels since December 2017.
Stocks
US stocks received cautious support on Wednesday afternoon. We have repeatedly noted that the dynamics of the final part of the American session is often the key to investor sentiment. The demand for stocks allows indices to gain momentum. Weak macroeconomic reports up to a point do not have a negative impact on the markets while investors are priced in the Fed's softer monetary policy. The chances of rate cut this year have risen to 81%, up from 56% a month earlier, according to CME's FedWatch tool.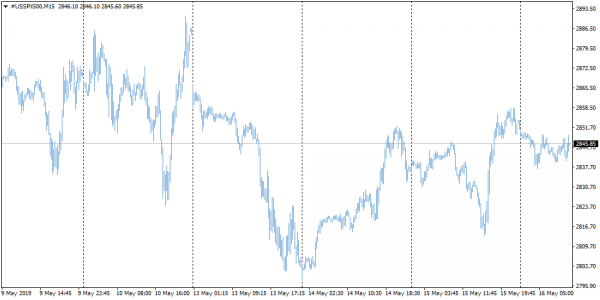 EURUSD
The single currency remains chained to the level of 1.1200 from the end of April. From November to April, this level served as an important point of support, attracting buyers. However, weak macroeconomic data and a general increase in alertness on the markets shifted the fight between bulls and bears to lower levels.
Chart of the day: GBPUSD
The demand for protective assets, such as the US government bonds, and the chronic inability of British politicians to agree on Brexit conditions, form downward pressure on the pair. GBPUSD declines for 9th trading session in a row, decreased by 2.6%. The chart shows that the sellers intensified after an unsuccessful attempt to return to the upward trend. In addition, the pair has managed to decline below 1.3000, a 200-day moving average and previous local minimums. Bears are probably targeting 1.2800, the next area of support.