Oil producers and traders have remained in a rather inactive position in the latest days. This could be due to weakness in worldwide demand for the commodity weighing in on the market. In general, the oil market price activity has not been what market participants expected in the latest sessions despite Iran's tensions and OPEC production cuts. Financial institutions and traders have removed any bullish trades as U.S. production was uplifted. On the contrary, fundamental news of the market could be at its peak for 2019. The latest developments, indicate various Chinese oil companies are still purchasing Iranian oil. The oil is being stored in tankers at Chinese ports and remains unused. However, the US has proceeded to sanction a Chinese firm claimed to violating restrictions on Iranian Oil. According to the above-mentioned topics, oil prices could pick up strong movement unexpectedly and caution is advised.
USD moves higher as Trump and US congress reach deal
On Monday, US congress leaders agreed to a two-year extension of the debt limit and federal spending caps. Under the deal, spending could increase to $1.37 trillion in the fiscal year starting Oct. 1, compared to $1.32 trillion this year. Even though the budget is forecasted to increase as the year's progress, the deal is positive for the US as it displays unity and even common goal orientation. Disagreements on the budget have been hurtful for the US economy in the past and so this could now be avoided as the deal passes to legislation. Furthermore from the US, a meeting took place in the White House that consisted of President Donald Trump and technology companies including Google and Intel. The meeting was to make decisions on their further business interaction with Huawei Technologies Co Ltd. In order for the firms to continue to sell chips to the Chinese firm they will need to obtain special licenses. It not completely clear on how the US firms will proceed with the matter yet the White House announced that there was unanimous support for national security restrictions on U.S. telecom equipment purchases and sales to Huawei. On the other hand, Washington Post put pressure on the US government when it made claims that Huawei secretly helped North Korea to build wireless network. However, if the matter is cleared the USD and the companies involved could get some support as US and China have been seemingly on good terms lately.
WTI 4 Hour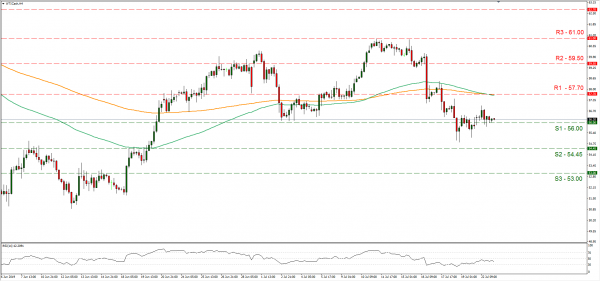 Support: 56.00 (S1), 54.45 (S2), 53.00 (S3)
Resistance: 57.70 (R1), 59.50 (R2), 61.00 (R3)
USD Index Daily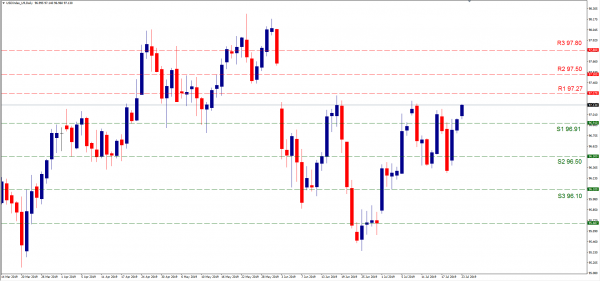 Support: 96.91 (S1), 96.50 (S2), 96.10 (S3)
Resistance: 97.27 (R1), 97.50 (R2), 97.80 (R3)