China Vice Premier Liu He spoke by phone with US Trade representative Lighthizer and after agreeing to talk again in two weeks the US announced that some consumer facing goods would be exempt until December 15.
The 10 percent increase still remains for articles published on the list on May 17, which will take effect on September 1.
Safe havens fell as soon as the news of the exemptions hit the wires. The JPY fell 1.25 percent and the CHF lost 0.41 percent. Gold traded 0.52 percent lower after the US announced that most of the consumer goods in the list would not be hit by the September 1 tariffs.
Equities surged with the news as the prolonged trade war has been the biggest negative factor hitting stocks. The consumer facing piece of the tariff exemptions boosted the tech sector, specially companies like Apple which rose 4.75 percent after the news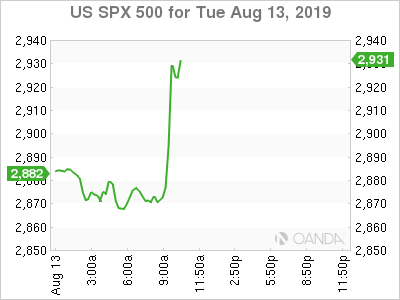 Oil also rebounded with WTI gaining 2.68 percent and Brent 2.8 percent as global growth concerns have eased as the two largest economies are back on the negotiating table.