Key Points:
Price action moving in a wave pattern.
RSI Oscillator close to overbought levels.
Watch for a breakdown towards the lower channel constrain in the coming days.
The USDCHF has had a fairly strong past few days as the currency pair has reacted to the rampant bullishness of the U.S. Dollar. Largely buoyed by a stronger than expected U.S. Unemployment Claims result of 223k, and announcements of stimulative fiscal policy, price action has climbed steadily higher. In fact, the last few days has seen the pair form a strongly bullish channel and seen the pair move higher in a wave formation. However, despite the near term bullishness, we could be about to see a pullback as price action looks ready to take a wave lower in the coming days.
Taking a look at the various technical indicators also highlights the current conundrum that the pair faces. Currently, price action is nearing the top of the bullish channel whilst the RSI Indicator is running out of steam and is relatively close to overbought territory. In fact, the USDCHF has been doing its best to remain below the near term resistance level at 1.0140 which suggests that the downside move is the most likely scenario in the coming days.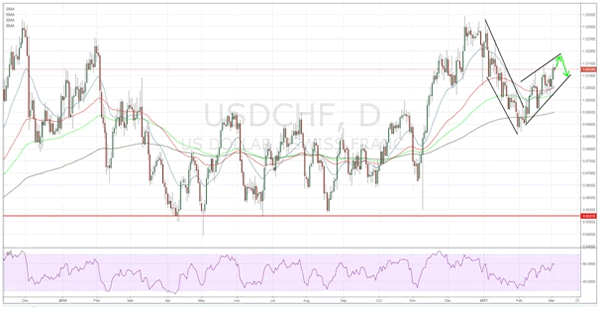 However, there are also some fundamental events that could forestall a short term pullback and change the current playing field. In particular, Janet Yellen is set to speak late on Friday (1800 GMT) and is highly likely to espouse a hawkish view on rates. Given the veritable PR campaign from the central bank of late, it's highly likely that the Fed Chair will want to get out in front of the market and start shaping expectations of a near term rate hike.
Ultimately, the pair has some significant technical factors that are suggesting price action will decline, in a wave formation, back towards the lower channel constraint. Subsequently, watch for the scenario where price action breaks below support at 1.0102 to signal a sharp move lower, towards the bottom of the channel. In extension, we could witness the invalidation of the lower constrain, however, the most likely scenario is a rebound from support. Subsequently, the short push is likely to be only short term in nature, before the pair returns to its bullish predilection.