Bad day at the office
There wasn't much to cheer about through Asia with ASX 200 finishing down 1.35% alongside a broader risk-off move across markets. Equities found themselves in the red while bonds were widely offered. In G10 FX, commodity currencies were moderately sold against the US Dollar Index. USDJPY was rejected multiple times at 108.5 in line with our thesis that USDJPY shorts are gaining traction with clients taking advantage of strong risk/reward metrics. At the stock level we note some interesting takeaways from today.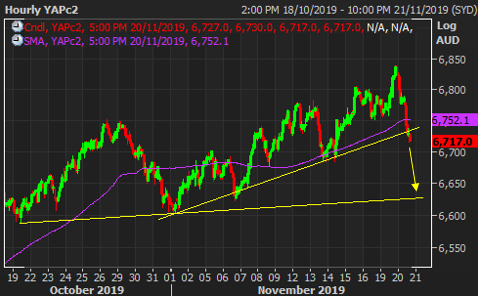 The banking sector is challenged for the foreseeable future
Having detailed the issues surrounding the banking sector in our SHARES: Are Aussie Banks Worth A Punt?, we remind readers that Aussie banks, while potentially attractive for high dividend yields relative to the market, face stern challenges in the near-term to their earnings. One of those challenges include significant remediation and regulatory costs. It was, therefore, unsurprising that Westpac (WBC) spoke true to that issue today when headlines broke that the Big 4 bank allegedly made 23m breaches of AUSTRAC anti-money laundering laws.
Westpac's (WBC) flagrant non-compliance saw it drop 3.3% with other Big 4 banks similarly sold. As much as A$21m is being pursued for every breach, though, we're more likely to see similar economics to CBA's A$700m payout for 53,750 payment offences. Either way, there's a hefty fine coming.
Not all doom and gloom
But it wasn't all bad for the ASX with some stocks finding buyer support following the release of positive news announcements. ALS (ALQ), whose principal activities include lab testing and ancillary services, saw its stocks jump ~12% on a strong half-year result which displayed higher HY revenues, margins and net profit. Technology One (TNE), a company tasked with providing enterprise business software solutions, rallied ~11% after Morgans re-rated the stock to A$8.26 from A$7.33. Aristocrat Leisure (ALL), a developer and distributor of gaming systems, announced a final dividend of 34c after profits surged 29%. The casino gaming powerhouse worth over A$20bn in market cap finished 6% up, taking its year-to-date return to ~54%.
What's short on the ASX?
From our coverage of what's short on the ASX, there were no major changes to the leader boad. Syrah Resources (SYR) still holds the mantle for the ASX's most shorted stock. Elsewhere, notably, Costa Group (CGC) did jump up to 7th from 16th, with its short sell ratio increasing by 3.1%. We've previously spoken about Costa Group in SHARES: Is Costa Group Due For A Rebound.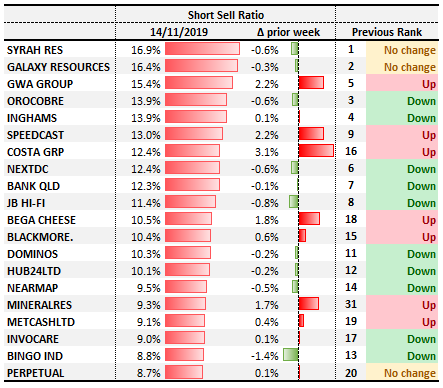 Top 20 most shorted ASX stocks. Short sell ratio % = short sell volume/issued capital. Change from prior week refers to the change in short sell ratio (green = less short, red = more short). Previous rank (green = good, red = moved up rankings on short list). Source: ThinkMarkets, Eikon