Chinese growth resilience
China has proven more resilient than expected over the past couple of months. The housing market is holding up still despite tightening measures and PMI manufacturing suggests that growth may have rebounded a bit again towards the end of Q2. The official PMI manufacturing figure for July, published today, fell slightly to 51.4 (consensus) from 51.7 in June. However, despite being below consensus, the level is still in line with fairly robust activity (see chart).
Another sign of rebounding Chinese activity lately is a turnaround in commodity prices. After trading moderately lower during spring, metal prices have moved higher in June and July to a new high for this year. Oil prices have also pushed higher from USD45 per barrel in mid-June to just below USD53 per barrel.
What is behind the resilience? Most of our leading indicators had pointed to a Chinese slowdown, so what is behind the rebound? One explanation may be a lift to infrastructure and construction projects ahead of the 19th National Congress of the Communist Party of China, taking place this autumn. It is striking in the PMI data for the past few months that it is the large enterprises that have rebounded, while PMIs for small and medium-sized companies have weakened. The latter are more exposed to the shadow banking sector, which has seen significant regulatory tightening this year. Large enterprises are typically exposed to heavy industry with exposure to infrastructure and construction. PMI for construction was strong in July.
Looking ahead, we continue to look for softer Chinese activity, as credit has been tightened and projects to boost growth ahead of the congress will fade again. We expect the housing market to slow soon in response to the tightening measures. However, the downside risks to Chinese growth have diminished over the past one to two months.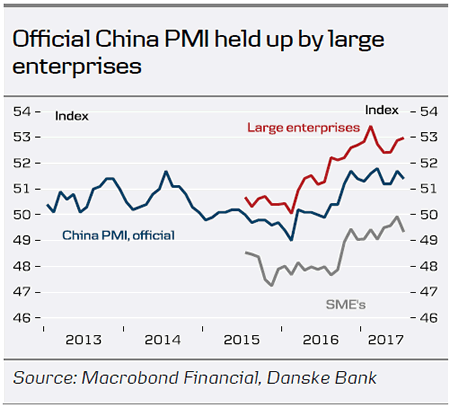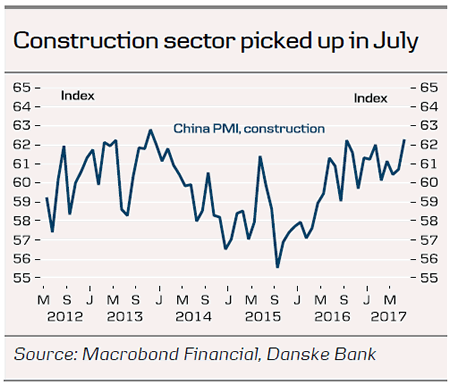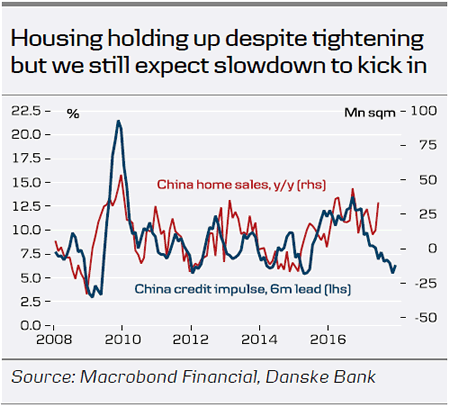 Stocks robust, USD/CNY lower
In Chinese financial markets, stocks have continued to perform, while the CNY has strengthened further against the USD. However, the latter is more a reflection of USD weakness than of CNY strength. Still, with USD/CNY moving down to 6.73, our 12M forecast for USD/CNY of 7.1 looks increasingly too high. We intend to review this when we next revise our forecasts in mid-August. While CNY is stronger than expected versus the USD, it continues to weaken against EUR and EUR/JPY has moved higher to 7.89. We continue to recommend hedging of CNY receivables as we look for a further increase in EUR/CNY. Bond yields in China have been quite stable lately. The financial stress in bond markets seen in May is no longer in place, as the authorities have eased liquidity leading to lower 3M money-market rates.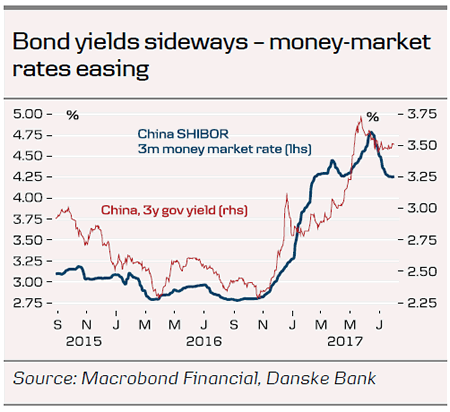 Crisis intensify with North Korea
On the geopolitical front, tensions with North Korea continue to rise after it did a second test of an intercontinental ballistic missile (ICBM) on Friday 29 July. It followed a similar test on 4 July. However, according to western experts, the latest ICBM could reach Los Angeles, whereas the missile tested on 4 July had Alaska within its scope if fired at a lower angle. The test is another sign that North Korea is advancing much faster than expected when it comes to technology that can reach the US with a nuclear warhead – a clearly stated goal of the North Korean regime.
US President Donald Trump said in a statement that 'By threatening the world, these weapons and tests further isolate North Korea, weaken its economy and deprive its people…The United States will take all necessary steps to ensure the security of the American homeland and protect our allies in the region.' The US has also displayed military firepower by flying two supersonic B-1 bombers over the Korean Peninsula as part of a joint exercise with Japan and South Korea and performed successful missile defence tests over the Pacific Ocean.
A military solution comes with very high risk but at the same time, the US is likely to lose credibility if it keeps saying it will take all necessary steps while not responding. This makes the situation very uncertain and unpredictable. For now, there are no signs the North Korea's leader is backing down from his nuclear ambitions, despite the increasing threat from the US.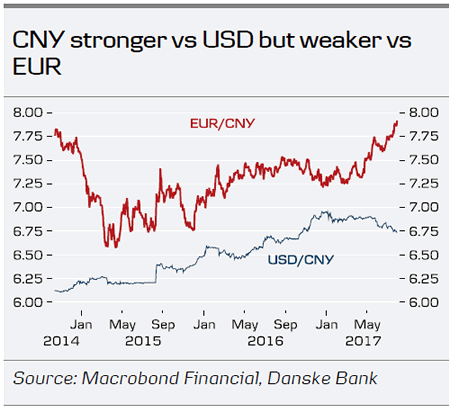 Tensions in US-China relations – watch out for US measures
The crisis is also worsening the relationship between China and the US. Trump tweeted after the latest test 'I am very disappointed in China. Our foolish past leaders have allowed them to make hundreds of billions of dollars a year in trade, yet…they do NOTHING for us with North Korea, just talk. We will no longer allow this to continue. China could easily solve this problem.' Following a period of more friendliness between the two leaders, the tone from Trump towards China has sharpened significantly recently. As late as 20 June, Trump tweeted that he appreciated the efforts by China and said '…at least I know China tried!'. In another sharp critique of China following the missile test, US ambassador to the United Nations Nikkie Haley said the US would not seek an emergency meeting of the UN Security Council, as it would be pointless as long as China will not commit to increasing the pressure on North Korea's leader Kim Jong Un.
On the trade front, Trump has still not introduced any protectionist measures. In late June, he clearly indicated that tariffs and/or quotas were coming on steel but so far no action has been taken. In an interview in The Wall Street Journal recently, he suggested the decision on steel would come fairly soon but suggested it was not urgent. However, according to Politico.com, Trump is working on a plan to 'punish China', that may be enacted as early this week. Any action aimed directly at China would be taken very seriously in Beijing and would be likely to lead to retaliation on, for example, trade.