Key Points:
Long-term pennant should encourage a reversal.
61.8% Fibonacci level should hold strong.
German data could put pressure on the pair ahead of the minimum bid rate.
The EURGBP is in focus again this week as the recent vote from The House of Lords has put Brexit back in the spot light. As a result, it could be worth taking a closer look at the pair's technical bias as it could provide some clue as to where we can expect to see it travel following the injection of fresh uncertainty into the Brexit saga.
Firstly, there is a fairly patent bullish pennant being retraced on the daily chart which looks set to remain intact going forward. Specifically, both the upside and downside constraints of the structure have weathered a number of assaults which speaks volumes of how entrenched the consolidation phase is. As a result of this pattern, we are now expecting to see a reversal take place within the next week or so.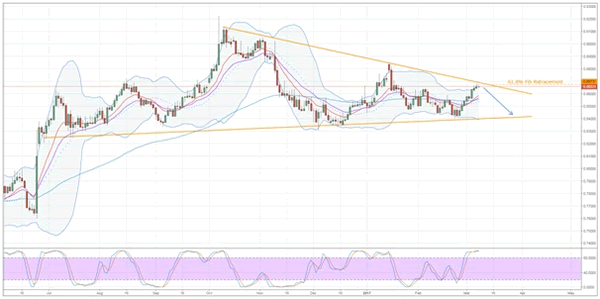 Moreover, aside from the trend line, there are a number of technical readings suggestive of an imminent downtrend. For instance, we have stochastics deep in oversold territory which has already been applying some downward pressure on the pair. In addition, the presence of the 61.8% Fibonacci retracement could further limit upside potential as the pair approaches the 0.8673 handle.
Revealingly, a quick look at the Bollinger bands also shows that, despite the strong price action seen recently, the pair has failed to move above the upper band which typically indicates a breakout is unlikely. Combined with the relatively strong divergence in the upper and lower band, chances of pushing through that upside of the pennant are looking fairly slim indeed.
From a fundamental perspective, we have a few things on the radar this week which could be worthfactoring in. Firstly, the German Industrial Production figure is on the way and, if the German Factory Orders result is anything to go by, it could be significantly weaker than originally forecasted. Further, the ECB minimum bid rate is due to be posted which, by itself, will probably be uneventful but the accompanying remarks could generate some solid movement.
Ultimately, both the fundamental and technical forecasts seem to be in line which should generate some negative sentiment moving forward. As a result, we are expecting to see a gradual decline bring the pair back to around the 0.84 handle before support kicks in strongly due to the presence of the lower constraint of the pennant. However, stay vigilant for any fundamental upsets that could instead see a rather sharp reversal take hold.