US core consumer prices, grew steadily for the fourth month in July, disappointing analysts who anticipated inflation to improve moderately. Following the data, the dollar retreated immediately against a basket of currencies to a one-week low, as the recent evidence on inflation, mirrored by consumer prices as well as by producer prices, indicated the weakness of prices to move toward the 2% Fed's target.
On Thursday, the US Bureau of Labor Statistics published the figures on consumer prices for the month of July. Headline inflation rose to 0.1% month-on-month (seasonally adjusted) after it showed no growth in June, undershooting the forecast of 0.2%. This drove monthly real earnings growth down to 0.2% compared to 0.5% seen in the previous month. Year-on-year, the CPI index increased by 0.1 percentage points to 1.7%, while expectations were for a rise to 1.8%.
The core CPI, which is a closely watched indicator by the Fed, as it excludes price volatility stemming from food and energy sectors and therefore is a better proxy of longer-term inflationary pressures, remained flat at 0.1% month-on-month. This was below 0.2% forecasted. On a yearly basis, the index was in line with expectations at 1.7%.
Looking at the details underpinning the records, gasoline prices continued weighing significantly on the index in July, falling the most among sectors by 2.8% month-on-month, while airline fares which dropped by 2.7% in June, improved by 0.7% in July. The fall in transportation costs softened from the negative 0.7% to a negative 0.1%.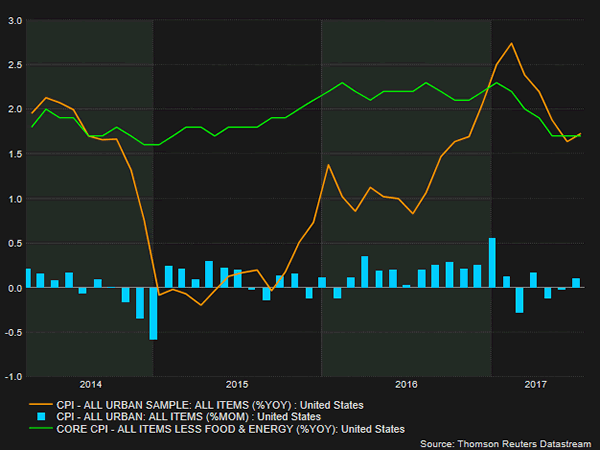 Taking into account disappointing readings on US PPI which experienced the largest drop in 11 months in July, as well as today's softer US CPI, the odds for a third rate hike this year have diminished as inflation doesn't show any sign of approaching the Fed's target of 2%. However, further economic data releases in the next months will give a clearer picture on inflation before Fed policymakers gather to decide on the future rate path.
Turning to the reaction in the forex markets, the dollar index fell to a one-week low of 92.99 from round 93.40. Euro/ dollar gained the most, surging by 0.65% to 1.1834 from 1.1753.The pair was last trading at 1.1785. Dollar/yen dropped below the 109 key level to 108.71 but managed to recover soon after, picking up to 109.16.