Headline CPI 1.9%qtr/7.8%yr; Trimmed Mean 1.7%qtr/6.9%yr; Weighted Median 1.6%qtr/5.8%yr. Hospitality services most important factor in the upside surprise in the December quarter but with the Trimmed Mean coming in broadly as expected this suggests the pace of core inflation is generally unfolding as we expected.
The CPI lifted 1.9% in the December quarter with the most significant contributions coming from domestic holiday travel & accommodation (+13.3%), electricity (+8.6%), and international holiday travel & accommodation (+7.6%).
The ABS noted that "strong demand, particularly over the Christmas holiday period, contributed to price rises for domestic holiday travel and international airfares." The rises seen for domestic & international travel were notably higher than the historical norm for the December quarter.
We did see the expected unwinding of the $400 electricity credit offered by the Western Australian Government. There was some offset from the Queensland Government's $175 Cost of Living rebate and the introduction of the Tasmanian Government's $119 Winter Bill Buster electricity discount for concession households.
The large upsize surprise in the December quarter, compared to our 1.5% forecast, was the 5.4% rise in recreation on the back of a 10.9% increase in holiday travel & accommodation costs. Housing was slightly stronger than expected (1.9% vs 1.7% forecast) with slightly stronger gains in dwelling prices and utilities. However, it only contributed 0.06ppt to our 0.5ppt error confirming that housing is no longer the inflationary story but pressures are shifting more towards services and, in particular, tourism and hospitality services.
Even though food prices continued to rise, driven by meals out & takeaway foods (+2.1%) as restaurants/cafes passed on rising ingredients and labour costs, the 0.9% increase was less than our 2.0% forecast. The main downside surprise in food was the 7.3% fall in fruit & vegetables reflecting the increase in supply due to improved weather conditions.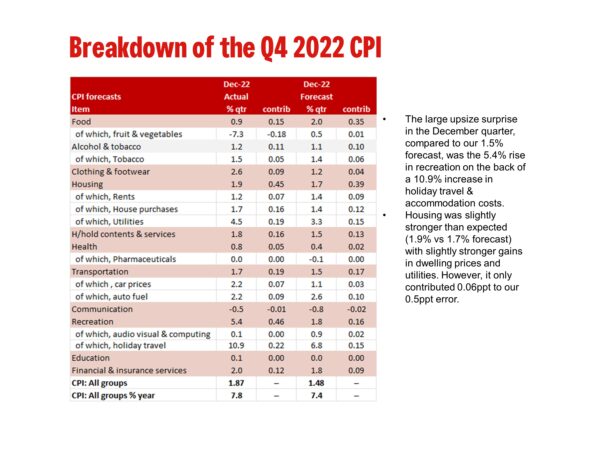 The Trimmed Mean rose 1.7%, a touch more than Westpac's 1.6% forecast but 0.2ppt more than the market's 1.5% forecast. This suggests the overall momentum of underlying inflation is broadly as we expected.
We are processing the numbers and working through how they will impact on our current inflation forecasts.