The Canadian economy has shown resilience so far this year. But there remain pockets of weakness, and headwinds from aggressive interest rate increases continue to build. It's against this mixed economic backdrop that Finance Minister Chrystia Freeland will release the federal budget Tuesday.
First the strengths: Statistics Canada's advance estimate for January GDP was up 0.3% from December. And a strong February labour market report suggests output probably continued to rise in that month too. Though oil production likely edged lower again in January as the sector continued to deal with a range of (mostly) transitory disruptions, the manufacturing sector has been a bright spot, with January sales surging higher. Retail sales also rose 1.4% (1.5% excluding price impacts) in January although the early estimate for February was for a 0.6% decline.
Now the weaknesses: The housing market continues to soften. Though home resales are showing signs of stabilization, new construction has declined in eight of the last nine months. And home prices continue to edge lower. The impacts of interest rates have substantially lagged the Bank of Canada's hikes. But they are increasingly weighing on household purchasing power as loans are gradually renewed at higher rates. This will cut into household purchasing power and spending in the months ahead.
Climate policy, and more specifically, Canada's response to the massive U.S. Inflation Reduction Act, will headline the March 28 budget. Though an overheating economy has pushed inflation higher, it has also boosted government revenues. Still, plans to return the budget to balance remain at best aspirational. Fiscal tracking suggests scope for a smaller budget deficit for fiscal 2022/23 than the $36 billion shortfall expected in the Fall Economic Statement. And the FES also assumed a $31 billion deficit for fiscal 2023/24 with no return to balance until 2027/28. Some targeted relief to help more vulnerable groups cope with higher living costs is expected next week. But Freeland has already acknowledged that turning on the fiscal spending taps too much would just add "fuel on the fire of inflation."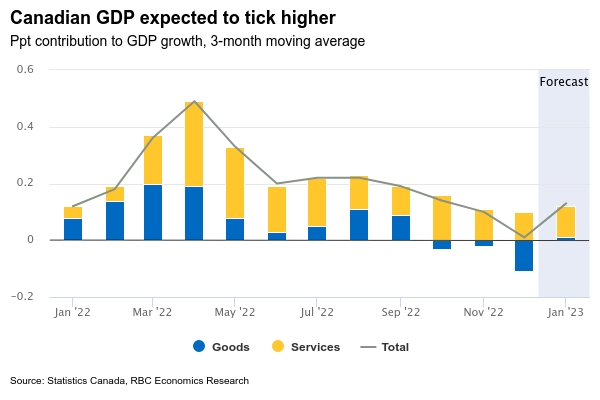 Week ahead data watch
Canada's SEPH employment report should show continued job gains in January given the 150,000 surge earlier reported in the more recent LFS employment data. But job vacancies data will be closely monitored for signs of further softening in hiring demand, even if that weakness has yet to flow through to employment counts.