US inflation ticks lower to 4.9%
BoE expected to raise rates by 25 bp on Thursday
US inflation dips lower
The US inflation report for April showed a very small decline. Headline CPI ticked lower to 4.9%, down from 5.0% in March and the consensus estimate of 5.0%.  The core rate eased to 5.5%, matching the consensus estimate and a drop below the March reading of 5.6%. On a monthly basis, headline CPI rose from 0.1% to 0.4%, matching the consensus estimate. The core rate was unchanged and also matched the consensus estimate.
The inflation report indicated that inflation remains stubbornly high and the disinflation process is moving at a snail's pace. The Fed has managed to curb inflation significantly, but it seems that bringing inflation down to the 2% target will be tricky and one or two more rate hikes will not achieve that target.
BoE expected to raise rates
The Bank of England holds its meeting on Thursday and is expected to raise rates by 25 basis points to 4.50%. The BoE's fight against inflation hasn't gone according to plan, as inflation is hovering above 10%. Still, the BoE remains optimistic and has projected that inflation will fall rapidly in the second half of the year. The BoE's tightening has exacerbated the cost-of-living crisis and policymakers are looking to provide some relief by winding up the current rate-tightening cycle with a final rate hike either on Thursday or at the June meeting.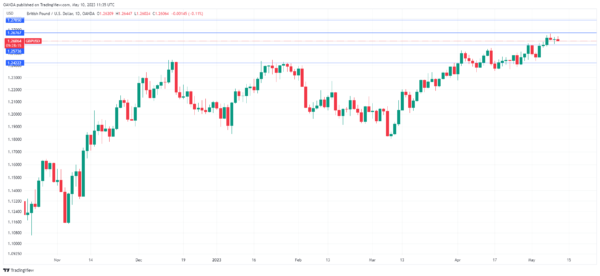 GBP/USD Technical
There is resistance at 1.2676 and 1.2785
1.2573 and 1.2495 are providing support