Yesterday, the price of BTC/USD fell below the level of 29,700, a support that has been in place for about a month.
What are the reasons for the decline? CNBC writes about:
strengthening of the USD on the eve of the Fed's meeting on the interest rate, which puts pressure on the price of bitcoin, denominated in US dollars;
an article in the WSJ raising concerns for the crypto industry in light of the pending SEC lawsuit against Binance.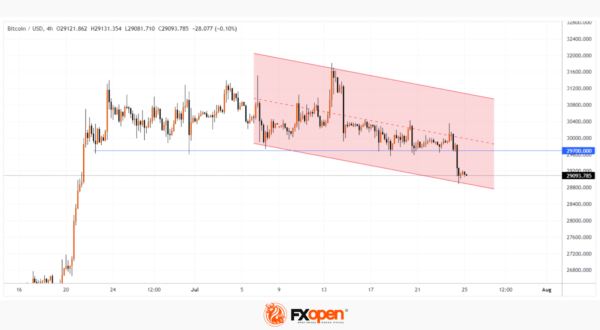 Note that in our previous post, we pointed out a sign of weakness, which manifested itself in the inability of the bulls to take advantage of the positive from Ripple Labs' victory in court with the SEC, and also built a downward channel (shown in red). Yesterday, on the chart, the price of BTC/USD reached its lower limit, where it found support.
Will the price of bitcoin continue to develop dynamics within this channel? A lot depends on the Fed. The decision on the key interest rate will be announced tomorrow at 21:00 GMT+3. And at 21:30 Powell will hold a press conference.
We also draw attention to the fact that:
news on the interest rate from the ECB will be released on Thursday at 15:15 GMT+3;
on Friday at 06:00 GMT+3, a similar event from the Bank of Japan.
Be prepared for bursts of volatility, including in the BTC/USD market.
FXOpen offers the world's most popular cryptocurrency CFDs*, including Bitcoin and Ethereum. Floating spreads, 1:2 leverage, 30% margin call, 0.01 lot minimum transaction size with no maximum — at your service. Open your trading account now or learn more about crypto CFD trading with FXOpen.
*At FXOpen UK and FXOpen AU, Cryptocurrency CFDs are only available for trading by those clients categorised as Professional clients under FCA Rules and Professional clients under ASIC Rules respectively. They are not available for trading by Retail clients.
This article represents the opinion of the Companies operating under the FXOpen brand only. It is not to be construed as an offer, solicitation, or recommendation with respect to products and services provided by the Companies operating under the FXOpen brand, nor is it to be considered financial advice.