Key Points:
A reversal is expected in the near-term.
Ascending trend line is now coming into play.
The pair has become highly oversold.
The Swissy's severe losses could be about to be put on pause if the technical bias is anything to go by. Specifically, the pair has moved into conflict with some robust support and a number of other technical readings are suggesting that a near-term reversal is now on the cards. Furthermore, the impending US data could provide the momentum needed to turn the USDCHF around in the final session of the week, making it worthwhilewatching this pair.
Starting with the technical bias, as mentioned above, one key reason a reversal is now forecasted for this pair is a strong zone of support around the 0.9951 level. Historically, this point has proven to be a reversal zone which will have the bears taking a more cautious approach moving ahead. Moreover, the bulls will be emboldened by the USDCHF's proximity to the ascending trend line which will likely begin to exert some buying pressure in the very near-term.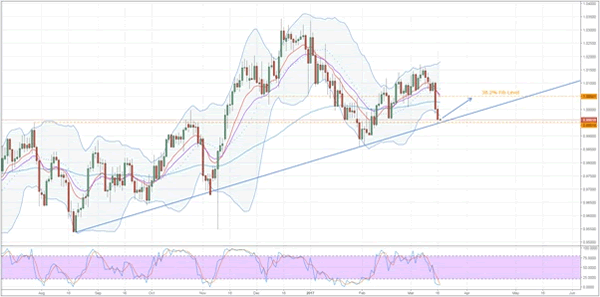 Some other technical readings that signal upsides are likely on the horizon are the stochastics and the Bollinger bands. Starting with the stochastic oscillator, this is highly oversold which will certainly be generating some buoyancy moving ahead. As for the Bollinger bands, the extreme selling pressure of the past few sessions has pushed price action below the lower band which should mean that the pair now seeks to regress back to the basis line.
Whilst the evidence for a reversal is quite robust, it is not expected that the entirety of the recent bearish price action is eroded. Predominantly, the presence of some dynamic resistance courtesy of the 100 day EMA and the 38.2% Fibonacci retracement suggests that gains will be capped around the 1.0050 mark. However, with an assist from some bullish fundamentals, the rally could extend beyond this point.
Speaking of which, the fundamental news to keep an eye on will largely come from the US front. Notably, the US Industrial Production and Preliminary Michigan Consumer Sentiment Figures are due out as the week winds down and could generate some buoyancy for this pair. Additionally, if Trump can avoid sparking any controversy as the week comes to an end, the Franc could weaken against the USD as the perceived political risks strengthening it subside.
Ultimately, the mix of fundamental and technical forces described above should see a rally in the next session or two so keep an eye on the Swissy. Specifically, that ascending trend line should come into play, especially if the fundamentals come in better than forecast. However, watch out for any potential breakouts that could result from political turmoil stemming from either Trump or the ongoing Brexit saga.