Market picture
The crypto market continues to settle at the levels it broke through at the beginning of last week. At the start of the day on Monday, the crypto market capitalisation was 7.7% higher than seven days ago, largely thanks to Bitcoin. Greed is dominating the crypto market, according to the Crypto Fear and Greed Index, which spent the second half of last week above 70 – its highest since November 2021. However, prices remain well below the levels at that time.
Bitcoin is up over 11% in seven days but has mostly traded between $34.8-35.8K since Tuesday, after hitting highs in May last year. Technically, last week was a bullish signal as Bitcoin managed to move further into the 200-week moving average, which looks like a promising comeback after crypto winter.
A "golden cross" has formed on the daily timeframes, which could further boost bullish confidence by creating a short-term flow of buyers following these popular signals.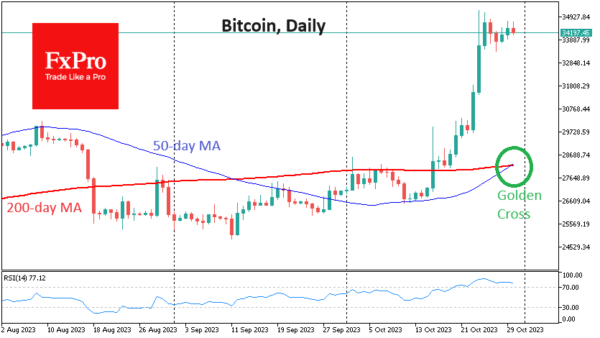 According to CCData, total assets under management (AUM) for digital asset-based investment products rose 6.74% to $31.7 billion in October, with bitcoin fund AUM increasing 11.1% to $23.2 billion. Instruments based on the former cryptocurrency hold 73.3% of the market, up from 70.5% a month earlier.
News background
Spain announced its intention to double the speed of implementing the cryptocurrency regulation MiCA law to finish it by the end of 2025.
The Ethereum development team postponed the release of the Dencun security update until next year. This was due to disagreements that arose between the designers of the consensus-level and execution-level clients.
According to Bloomberg, the fortune of Changpeng Zhao, Binance's head, fell by 82% to $17.3 billion from a peak of $96.6 billion in January 2022.
Reports of phishing emails have surfaced online among users of Trezor hardware cryptocurrency wallets. Users have speculated about data leaks from the wallet maker or UK-based delivery company Evri.
Offchain Labs, the company behind the L2 protocol Arbitrum, has opened access to the Orbit software stack to create layer three blockchains on the main network.