Following an upwardly revised January reading, new home sales jumped 6.1 percent in February to a 592,000-unit pace due to mild temperatures. Previous months' data were revised down by a net 4,000 units.
Strong Reading in New Homes Sales Activity
New home sales surged well ahead of the consensus estimate, likely due to unusually mild weather in February, which pulled sales forward. We suspect sales will slow in the coming months as the Nor'easter likely stalled activity. On a regional basis, activity advanced in the Midwest, South and West, but fell in the Northeast. The median price of a new home fell 4.9 percent year over year, while the average jumped almost 12 percent.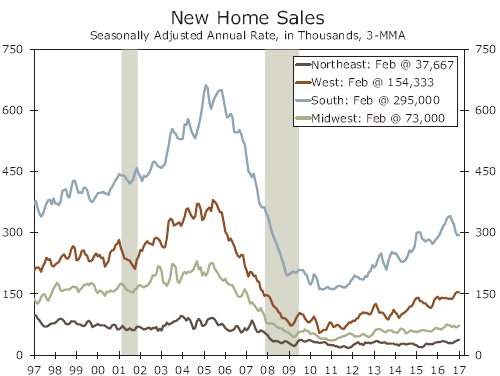 Builder Sentiment Jumps to Previous Peak Level
The NAHB/Wells Fargo Housing Market Index surged in March, reaching the highest level in more than a decade at 71. We suspect much of the post-election lift in sentiment reflects hope that the Trump Administration will follow through on curbing regulation, which could ease permit costs. The EPA's 2017 Construction General Permit, which authorizes storm water discharge from construction sites, is the latest source of angst.