Key Points:
Mean reversion likely to occur for the Cable.
RSI Oscillator nearing overbought levels.
Watch for a retracement in the days ahead.
The U.K managed to surprise everyone overnight as the latest round of retail sales proved highly robust, coming in well above estimates at 3.7% y/y. Subsequently, the pair rallied around 60 pips, before running into some stiff resistance at 1.2530, and now sits at a precarious position. The initial indications this morning aren't necessarily positive so we could see a bearish move for the pair over the next few sessions.
In particular, the charts are relatively illuminating for the Cable especially given the sharp run up that has occurred over the past month. However, price action has definitely run into a sharp area of resistance at 1.2530, and momentum has now stalled largely leaving the pair exposed with little fundamental news left in the trading week. In addition, the RSI Oscillator is nearing overbought levels and the pressure is building for either a downside correction, or a period of sideways consolidation.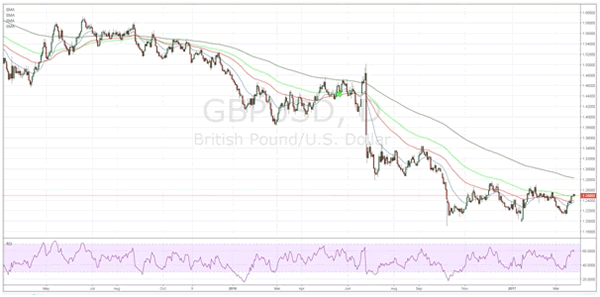 However, at the time of writing, price action is still above the 100 day MA which lends a little credence to another challenge to resistance. However, most of the other indicators are suggesting a return to the mean given that the pair, on the daily time frame, is very definitely trending between the 1.20 and 1.26 handles. This may especially be the case given that the RSI Oscillator is nearing overbought levels.
In addition, the pair is fundamentally exposed as we head into the final few trading sessions of the week given the lack of UK economic data due for release. Subsequently, the market is likely to be primarily focusing upon the U.S. Durable Goods Orders and Markit Flash Manufacturing PMI. In particular, the Markit Flash Manufacturing PMI is expected to provide a strong result at 54.2 and is likely to provide some buoyancy to the greenback.
Ultimately, the time has come for a pullback from the Cable given all of the above mentioned factors. Subsequently, expect to see the venerable pair trading below the 1.25 handle with a likely range somewhere around the 1.2430 mark in the days ahead.