Key Points:
Bearish trend line about to be felt yet again.
Stochastics currently in overbought territory.
Weaker employment data dragging the pair lower.
Despite some strong selling pressure in the prior session, the Kiwi Dollar seems to have reached a near-term peak which could signal that a reversal is now on the cards. If we do see the pair retreat from the 0.73 handle, the NZD could be dragged as low as the 0.7164 mark which would be broadly in line with the recent fundamental upset which is also worth keeping an eye on.
But first, a closer look at some of the technical readings and the recent price action paints a fairly bearish picture for the immediate future. Probably most noticeably, the long-term descending trend line is proving to be a major source of resistance, eroding much of the prior session's solid gains. What's more, capping gains around the 0.7324 mark respects the rather firm zone of resistance that historically exists around this point.
tact for a number of reasons. Primarily, it is because it has historically proven itself to be rather resistant to breakout attempts. However, whilst not shown, the 100 day EMA is also providing dynamic resistance around this level which will certainly be capping upside potential in the short to medium-term.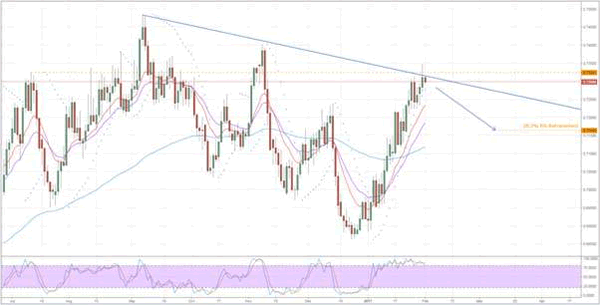 However, just because we see some relatively insurmountable resistance by no means ensures that we see a real retracement for the Kiwi Dollar. Fortunately, with the exception of the EMA bias, there are a number of other technical readings hinting at an imminent switch in momentum. Specifically, stochastics are highly overbought on the daily chart which will see selling pressure mount as the session opens. Moreover, the Parabolic SAR is on the verge of inverting from bullish to bearish, a signal typically indicative of a change in the near-term bias.
Indeed, we are already beginning to see the NZD slump despite the broader market swing back to the embattled USD. Some of this negative sentiment will, of course, stem from the surprise uptick in the New Zealand Unemployment Rate from a historically low 4.9% to 5.2%. However, by and large, the market will be reacting to the shifting technical bias which currently suggests a slip back to the 38.2% Fibonacci retracement is warranted.
Ultimately, as the latest employment data is interpreted and digested, the Kiwi Dollar could begin to shake off some of the immediate negative sentiment generated by the results. This would lead to a retesting of the trend line and potentially even a breakout. This being said, without another sizable surge in anti-US sentiment, there is little in the way of fundamental support for such a move within the coming sessions. As a result, the technical bias should carry the day and spark at least a near-term cooling-off for the recently red-hot pair.