Key Points:
Price action trading between a channel.
RSI Oscillator close to oversold.
Watch for a bounce towards the bearish trend line in the days ahead.
The USDJPY has been on a veritable roller coaster over the past few weeks as the currency has reacted to all sorts of sentiment shocks. Subsequently, price action has swung relatively consistently between the low at 112.50, and the short term high around 115.37, as it sought to form a sideways channel. However, the pair could potentially be about to reverse direction given some of the interesting technical factors.
In particular, a cursory review of the 4-hr chart demonstrates the current conundrum that faces the Dollar-Yen. Price action is currently resting upon the lower constraint of the short-term channel whilst the RSI Oscillator is continuing to trend lower towards oversold levels. Additionally, there is a relatively strong layer of support just below the pair's current level.
Subsequently, there are plenty of technical indicators that suggest we are likely to see a retracement in the coming days. In particular, the pressure is building within the RSI Oscillator, as it moves towards oversold levels, which is likely to mean that a bounce will occur.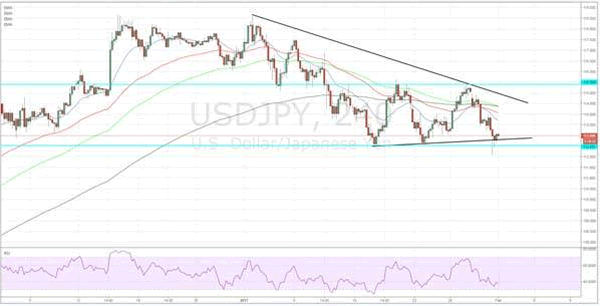 However, there is plenty of volatility currently flooding into the US Dollar cross pairs as President Trump stamps his peculiar form of leadership upon currency markets. The past 24 hours has seen the leader brand the Yen as overvalued which has caused plenty of air to evaporate out of the pair. However, the real risk is that President Trump may choose to take unilateral action on the issue which could have a deleterious impact upon the Japanese Yen's current valuation. Subsequently, it would be worthwhile monitoring the political developments in the weeks ahead.
Ultimately, the technical factors currently argue that a retracement is the likely path ahead for the pair. Subsequently, the most likely scenario is one in which the pair trends sharply higher towards the falling bearish trend line around the 114.65 mark, and the top of the channel at 115.39 in extension. However, keep a close watch on the US Federal Funds Rate decision as the central bank could ultimately provide the markets with a surprise.