The Euro sharply depreciated against the Dollar during early trading on Friday after pro-independence parties in Catalonia triumphed in Thursday's regional elections.
With three pro-independence parties winning a combined 70 seats of the 135 available, concerns are once again heightened that tensions between Barcelona and Madrid could escalate. Although political uncertainty in Spain has the ability to punish the Euro short-term, losses are likely to be limited by the growing optimism over Europe's economic recovery.
Taking a look at the technical picture, the EURUSD remains supported above 1.1850 on the daily charts. Prices are trading above the 50 SMA while the MACD has also crossed to the upside. A weekly close above 1.1850 could signal a further incline towards 1.1920 and higher. Alternatively, a failure of prices to keep above the 1.1850 pivotal level may reopen a path back towards 1.1730.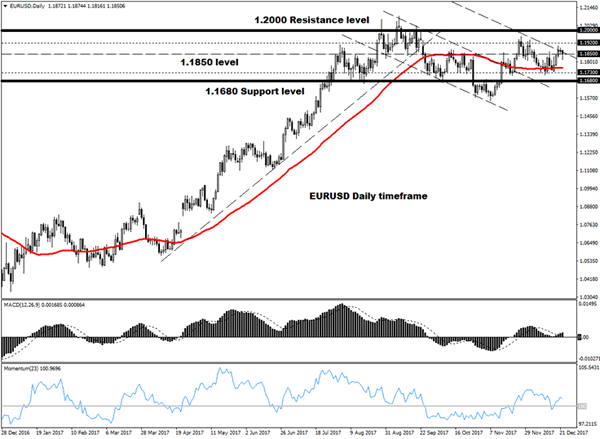 WTI Crude losing steam?
WTI Crude was under pressure during Friday's trading session, with prices dipping below $58.00 as investors booked profits ahead of the upcoming New Year's break.
Oil prices have been supported by supply disruptions and optimism over OPEC's production cuts rebalancing markets but the question is, for how long? While the OPEC-led group may be commended for their efforts to limit production, U.S. Shale remains a threat to higher oil prices. It must be kept in mind that, with WTI Crude oil trading around $58.00, shale producers are currently profitable – a factor that could ultimately increase oil production. A situation where activity in the shale industry rises further next year has the potential to limit oil's upside gains.
Commodity spotlight – Gold
Gold prices hit a two-week high at $1269 in thin pre-holiday liquidity on Friday amid a softer US Dollar. With investors sitting on their hands and simply observing the markets ahead of the upcoming Christmas holiday break, Gold could remain range bound. Taking a look at the technical picture, the yellow metal still remains at risk of further downside losses despite the impressive appreciation witnessed this week. There is a suspicion that Gold is in the process of a technical bounce, with resistance found at $1267. A failure of prices to keep above this level may trigger a drop to $1250. Alternatively, a daily close above $1267 could encourage an appreciation towards $1280.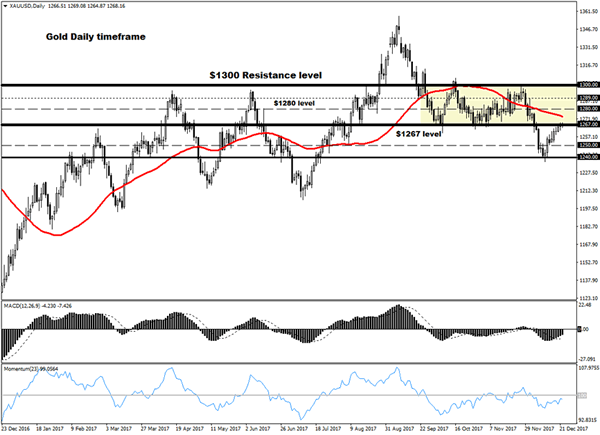 Bitcoin tumbles…
It has certainly been a volatile trading week for Bitcoin, which plunged 20% during Friday's trading session, with prices briefly dipping below $13000 before recovering towards $14000. The aggressively bearish price action witnessed this week may prompt investors to start questioning if Bitcoin will recover from the selloff or remain depressed moving into the New Year. From a technical standpoint, Bitcoin is at risk of dropping further if prices fail to keep above $13000. Sustained weakness below this level could encourage a decline back towards $11000.