Key Points:
The AUD could go either way this week depending on the fundamentals.
EMA bias remains bullish which could see a near-term recovery.
However, MACD crossover is hinting at further downside
The AUDUSD has reached a bit of an impasse as a result of last week's tumble which now raises the question of what is next on the agenda. Consequently, it may be worth taking a look at what brought the pair to where it is now and what might be fuelling either the potential recovery or extension of the recent downtrend.
Starting with last week's performance, the Aussie Dollar was initially looking fairly bullish last week as it surged higher in response to the political risks sparked by the ongoing 'Trumpcare' fiasco. However, this buying pressure was short-lived as it brought the pair into conflict with the descending trend line around the 0.7732 handle. Importantly, this proved to be a reversal point that slapped the pair sharply lower in short order. However, these losses continued to be realised as the fundamental bias began to favour the USD. Notably, the pair had another big slide in response to an uptick in the US New Home Sales figure to 592K m/m.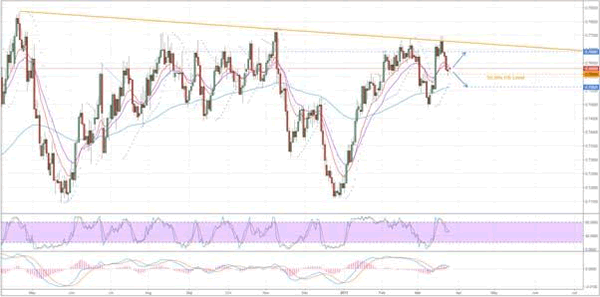 On the technical front, as mentioned, the AUD is now at a bit of a crossroads which could see either a mild recovery or further losses this week. Which of the two outcomes occurs is largely predicated on whether or not the pair breaks through the 50.0% Fibonacci level around the 0.7609 mark. If we do see the level broken, the MACD signal line crossover will complete which could mean losses extend back to the 0.7562 mark before the 100 day EMA provides some support. However, if the retracement holds, the generally bullish EMA bias could see the AUD move to recover some of last week's losses.
As for what lies ahead on the news front, the first half of the week will largely focus on the usual slew of US data and some scheduled comments from a number of Fed members. Conversely, the second half of the week will be slightly more Australian news focused as the HIA New Home Sales and Job Vacancies are due out on Thursday. Although, it is worth mentioning that the US Final GDP figure is also due on Thursday which could either compound or mitigate the effect of the two Australian results, dependent on whether or not the 2.0% q/q uptick is realised.
Ultimately, it's worth keeping an eye on this pair as it has the potential to please both the bulls and the bears out there. However, remember to pay close attention to both the fundamentals and that 50.0% Fibonacci retracement as these will be key in catching either the rebound or the fresh breakout and subsequent downside risk.