Here are the latest developments in global markets:
FOREX: After considerable declines in the days that preceded, the dollar is in the green relative to other major currencies during today's trading, though it managed to recover only a relatively small portion of earlier losses. The dollar index was 0.3% up at 90.73. On Monday it touched 90.46, its lowest since early 2015. The British currency experienced some losses following the release of UK inflation data.
STOCKS: European bourses were broadly in the green around midday, though gains were limited for the most part. The pan-European Stoxx 600 traded 0.25% higher and the blue-chip Euro Stoxx 50 was up by 0.6%. The UK's FTSE 100 was down by 0.1% after previously coming close to a fresh all-time high, while the German DAX and CAC 40 traded higher by 0.9% and 0.2% respectively. Some weakness in the euro/dollar pair was supporting exporter-heavy benchmarks such as the DAX. Luxury fashion house Hugo Boss (up 3.15%) and vehicle-maker Peugeot (up 1.4%) were on a positive footing after releasing upbeat reports that, among others, showed rising sales. Deutsche Bank was down 0.3%; the bank was under pressure on the back of accusations it conspired to rig a Canadian benchmark rate. Futures markets were pointing to a higher open on Wall Street: Dow, S&P 500 and Nasdaq 100 contracts were up by 0.8%, 0.4% and 0.5% respectively. Citigroup will be reporting its Q4 2017 financial results before today's US market open.
COMMODITIES: WTI was down by 0.6% and Brent crude was lower by 1.3%, trading at $63.90 and $69.31 per barrel respectively. These compare to WTI's $64.89 per barrel from earlier in the day – a fresh three-year high – and Brent's $70.37 recorded on Monday, this also being a three-year high. Gold posted losses as the greenback was on the rise. The dollar-denominated precious metal was 0.3% down at $1,333.85 an ounce. In previous days it benefitted on the back of the US currency's weakness, rising as high as $1,344.44 during Monday's trading, a level last experienced in early September.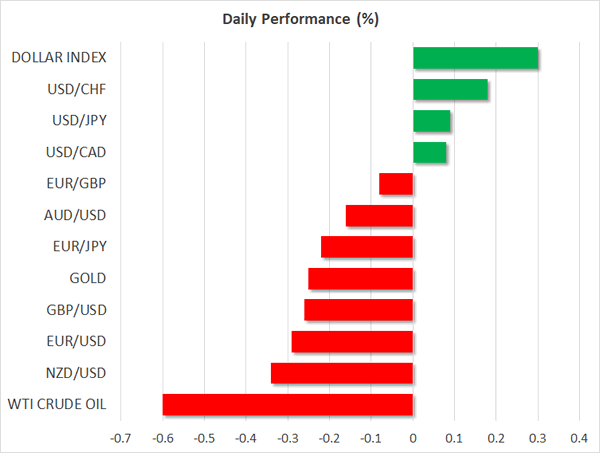 Day ahead: Dairy auction and API oil data on the agenda; pound declines following data on inflation
UK headline inflation grew by 3.0% y/y/ in December, reflecting the first decline since June. The figure was in line with expectations and below the near six-year high of 3.1% recorded in November, which represented a more than 1% overshoot from the Bank of England's target for inflation of 2% and thus meant that Governor Carney had to write a letter to the Chancellor of the Exchequer Philip Hammond to explain the situation.
Some analysts anticipate CPI to continue declining as the impact from the pound's sharp fall following June 2016's Brexit referendum drops out of the data. However, the British Office for National Statistics (ONS) said "it remains too early" to declare whether that has started taking place. On an annual basis, December core inflation, which excludes energy, food, alcohol and tobacco items, grew by 2.5%, below expectations of 2.6% and November's respective rate of 2.7%.
Sterling experienced volatility upon release of the data, falling overall relative to majors including the dollar and the euro as perhaps forex market participants perceived the numbers as easing pressure on the BoE to proceed with an additional rate hike following the one in November. Pound/dollar was 0.3% down at 1.3755 – but still trading around post-Brexit referendum highs – and euro/pound was little changed at 0.8890.
The UK also saw the release of data on producer price inflation, with input price growth falling short of forecasts and output prices rising more than projected.
The outcome of the bi-weekly dairy auction was scheduled to be made public around 1200 GMT, though the release has yet to take place as it is tentative, lacking a fixed time. Dairy products account for the largest portion of New Zealand's exports and it would be interesting to see if prices lend some support to the kiwi which has retreated notably versus its US counterpart after a survey by think tank NZIER (New Zealand Institute of Economic Research) showed New Zealand business sentiment turning negative to reach a two-year low in the fourth quarter of last year. Worsening sentiment was attributed to pessimism stemming from uncertainty over the policies of the new Labour-led government.
No significant data are expected out of the US during today's trading, with January's New York Fed Manufacturing index being the only release attracting some attention. The reading though does not typically lead to positioning on the dollar.
Oil traders will be paying attention to the API weekly report due at 2130 GMT that includes information on US crude stocks.
In politics, any developments on coalition talks between Chancellor Merkel's conservative bloc and the Social Democrats will be closely watched as they have the capacity to spur movements in euro pairs.