Key Points:
The descending trend line should see the long-term downtrend resume.
Corrective ABC looks to have been completed.
Brexit fears should begin to weigh on the EUR.
The Euro's recent upswing seems to be coming to an end which could go some way in explaining yesterday's rather torrid reaction to the broader market trend. Indeed, fundamentals aside, the EUR's technical bias alone seems to indicate that downside risks are opening up as we move ahead which could mean the long-term downtrend is ready to get back underway.
First and foremost, we can't ignore the presence of that long-term trend line that has proven a difficult adversary for the bulls many times over the past months. As a result of this descending line, it maybe won't come as a total surprise that selling pressure spiked significantly yesterday. Additionally, the rather overbought stochastic reading provided even explanation for why bearishness prevailed in the prior session.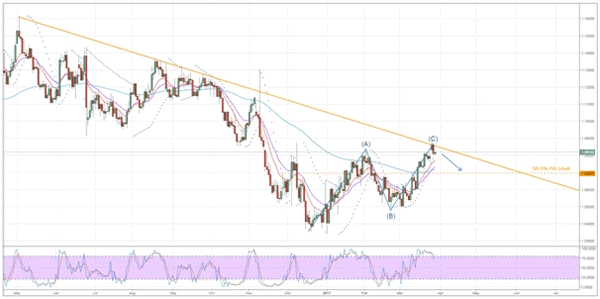 However, that was yesterday and the question is now whether this was simply a near-term slip or the beginning of a medium to long-term change in momentum for the EUR? Well, firstly, we can look to the corrective ABC wave which now seems to have run its course to give us a clue as to what is next on the agenda. Given the pattern is now looking complete, the pair's overall bearish trend should resume until another correction is needed.
Secondly, we can examine the Parabolic SAR reading which is on the cusp of inverting from its current bullish bias to bearish instead. Typically, this would mean we are due for at least a modest period of losses even if the EMA bias is rather bullish. Speaking of which, don't entirely ignore these moving averages as the 100 day EMA should prove to be a solid near-term support which may mean we have a local bottom around the 50.0% Fibonacci level at the 1.0695 mark.
From a fundamental perspective, uncertainty is on the rise within the Eurozone which will lend a hand to the bears and drag the pair lower moving ahead. It goes without saying, these uncertainties will largely be stemming from Brexit risks which are now at the forefront of the public conciseness. Further, the revelation that Theresa May has now written and signed the article 50 letter to be deliver to the EU will see this negative sentiment surge which will go a long way in supporting the current technical forecast.
Ultimately, given both the technicals and fundamental discussed above, it seems fairly safe to assume downside risk will be increasing for the EUR. Moreover, even concerns over the Trump administration may fall by the wayside in the wake of Brexit. As a result the resumption of the long-term down trend could be on its way this week and December's lows may be back in the crosshairs for the bears over the coming weeks and months