Key Points:
Technical bias remains bullish despite a rather torrid week.
Descending trend line could now be challenged moving ahead.
RBA in focus as the Cash Rate is set to be announced.
The AUDUSDwas all over the place last week which leaves its outlook for the week ahead somewhat unclear. As a result, it is worthwhile taking a look at both what caused last week's performance and what is on the agenda as we move ahead. Furthermore, we can look to the technicals to get a better picture of what to expect as we press on.
Starting with last week's performance, the AUD was initially rallying reasonably strongly but soon had these gains taken away by better than expected US data. Specifically, as was the case for most pairs, the uptick in the US Final GDP figure to 2.1% caused a bit of stir and a sharp return in sentiment for the USD on Thursday. However, this trend extended into Friday's session for the AUDUSD as the Australian Private Sector Credit figure disappointed at only 0.3% which offset any shortcomings in the US Personal Spending and Personal Income data. Overall, this saw the pair close the week basically where it opened it.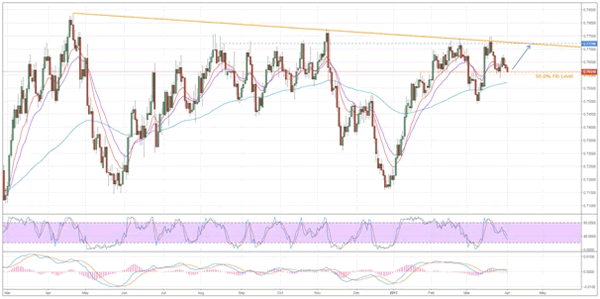 On the technical front, the AUD remained relatively bullish which could now leave it open to netting some modest gains this week. Of course, upsides will be limited by the descending trend line but a number of other instruments are hinting that challenging this line could actually be on the cards. For one, the moving averages are still firmly bullish, a bias also shared with the Parabolic SAR. Moreover, the RSI and Stochastic Oscillators are both neutral which gives the pair plenty of room to rally without fear of moving into overbought territory.
As for what lies ahead in the fundamental news, there is a bevy of data on offer which could lead to a rather volatile week for the Aussie Dollar. What's more, this volatility will largely spike early on as the RBA's Cash Rate decision is due out Tuesday alongside the Australian Trade Balance. Presently, expectations are that the rate is held steady at 1.50% as the central bank will be loath to put any further upward pressure on AUD and hamstring exporters. As a result, the rhetoric accompanying the announcement may generate more movement than the rate choice itself so keep an eye on the RBA's Lowe.
Ultimately, we expect to see some more bullishness on the horizon for the AUD but, as mentioned, not too much. Specifically, the combination of the overarching bullish technical bias and the increased focus on the pair, given the RBA's Cash Rate announcement, could see the descending trend line challenged within the next week or so. However, we don't expect to see this challenge result in a breakout even with some decent fundamental support.