Gold jumps 15 Dollars to a high of 1264 as the U.S. announces a major cruise missile strike on Syria.
Gold has jumped from 1250 to a high of 1264 as the United States announces a major surprise attack on Syria in retaliation for the chemical attacks on its citizens earlier this week.
MORE THAN 50 MISSILES FIRED FROM U.S. NAVY DESTROYERS IN THE EASTERN MEDITERRANEAN, STRIKING SEVERAL TARGETS ON BASE – SECOND U.S. OFFICIAL – RTRS
The timing is somewhat shocking as the Chinese President Xi is on a state visit to the United States at the moment. My initial thoughts are the new president is sending a big message to the Chinese about their willingness to act on North Korea as well with this strike.
Geopolitics aside, safe-haven risk aversion should be the theme of the day now with Gold and Silver the major beneficiaries. Gold has broken the 200-day moving average intra-day and has tested its upper resistance at 1264, the February 28th high. A daily close above these levels can open a technical move to 1300 with support now at the 1250 level.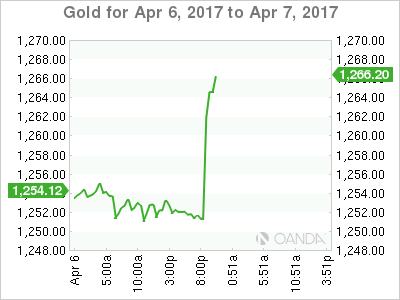 Expect Gold to be bid on any dips now and for crude oil to move higher as well. We expect stocks and bonds to also move and will comment on these in due course.
President Trump is due to address the nation shortly and the street will also look to see the reaction of the Chinese as well.