I take it that everyone who had the opportunity of a long weekend enjoyed the time away from their charts whether they celebrate Easter or not. The mental aspect of trading is so important and with many of us so passionately trading a market that is open 24 hours a day, it leaves us open to burnout if we don't take time off when it is presented to us.
Always remember that the markets aren't going anywhere. There is always another trade waiting for you just around the corner whenever you come back and open your charts again after taking a break. This is something that is so easy to lose sight of but so integrally important to your long term profitability.
Turning our focus away from trading psychology and back to the charts, I wanted to bring attention back to a blog that we posted at the very beginning of March where AUD/NZD was higher after Australian GDP.
This is an excerpt from the blog which includes an AUD/NZD daily chart at a key level:
Interestingly, price is still being capped by the top of the daily resistance zone higlighted in yesterday's original trade idea.
AUD/NZD Daily: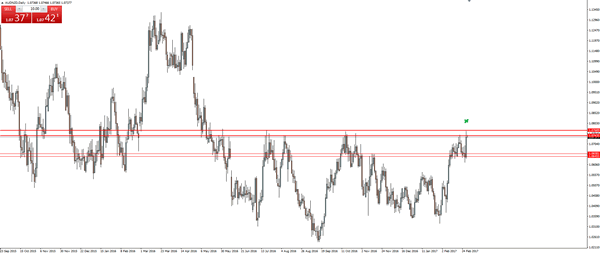 This level will continue to be the key as to which way we look to trade the pair.
If price stays under it, then we will look for shorts (or stay in shorts if your stop was still above this higher time frame level).
If price moves above it, then we will look for longs on any short term pullbacks.
Now we fast-forward back to the present and as you can see from the chart below, we're back at that key level but this time testing it from the top as support:
AUD/NZD Daily: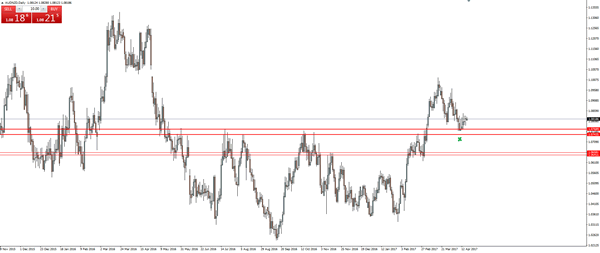 With the daily support zone looking to have held, from here we will look to zoom into an intraday chart and search for any short term pullbacks to previous resistance turned possible support to get long off. By zooming into a lower time frame chart and looking for trades in the direction of the higher time frame support level that just held, you are giving yourself that extra bit of confirmation that you're trading in the direction the market is headed. The path of least resistance if you will.