Key Highlights
The US Dollar spiked higher, but failed to stay above 112.00 against the Japanese Yen.
An ascending channel is in place with support near 111.30 on the 4-hours chart of USD/JPY.
The US Durable Goods Orders in March 2019 gained 2.7% (MoM), more than the 0.8% forecast.
The US Gross Domestic Product in Q1 2019 (Prelim) could increase 2.1%, less than the last 2.2%.
USDJPY Technical Analysis
The US Dollar gained momentum this week above 112.20 against the Japanese Yen. However, the USD/JPY pair failed to retain strength above 112.00 and recently trimmed most its gains.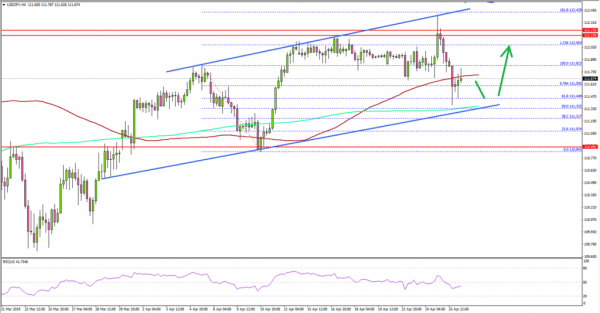 Looking at the 4-hours chart, the pair consolidated below the 112.00 resistance for a few sessions and tested the 1.236 Fib extension level of the last decline from the 111.82 high to 110.84 low.
Finally, there was a strong upward move above the 112.00 and 112.20 resistance levels. However, the pair failed to gain momentum above 112.40 and formed a short term top near the 112.42 level.
It seems like the pair completed the last upward wave close to the 1.618 Fib extension level of the last decline from the 111.82 high to 110.84 low. There was a sharp decline below 112.20 and 112.00.
On the downside, there is a strong support near the 111.30 level and 200 simple moving average (4-hours, green). Besides, there is an ascending channel in place with support at 111.30 on the same chart.
If there is a downside break below the channel support, the pair could revisit the 110.85 support area. On the upside, the 112.00, 112.20 and 112.45 levels are important hurdles for more gains.
Fundamentally, the US Durable Goods Orders report for March 2019 was released by the US Census Bureau. The market was looking for a 0.8% increase in orders compared with the previous month.
The actual result better than the forecast as the US Durable Goods increased 2.7%. Besides, the last reading was revised up from -1.6% to -1.1%.
The report added that:
This increase, up four of the last five months, followed a 1.1 percent February decrease. Excluding transportation, new orders increased 0.4 percent.
Overall, the USD/JPY pair remains supported on dips near 111.30. On the other hand, there were additional losses in EUR/USD and GBP/USD in the past few sessions.
Economic Releases to Watch Today
US Gross Domestic Product Q1 2019 (Preliminary) – Forecast 2.1% versus previous 2.2%.
US Personal Consumption Expenditures Prices for Q1 2019 (QoQ) (Preliminary) – Forecast +1.3%, versus +1.5% previous.
US Core Personal Consumption Expenditures for Q1 2019 (QoQ) (Preliminary) – Forecast +1.6%, versus +1.8% previous.