I hope your weekend was a productive one, even if it was just time away from your charts. We all need to recharge the batteries from time to time and the fact that markets aren't open on the weekend can sometimes be a bit of a blessing in disguise for the trading addict within us.
But it's back into the full swing of things again today, as focus turns back to the majors with a look at GBP/USD. If you've been following the blog, you'll have levels drawn showing price stuck within a 1500 pip GBP/USD range that formed after the Brexit low was broken and retested as resistance.
We had been trading this support/resistance level in the middle of the range from the long side, but price has now come back to retest previous swing high resistance:
GBP/USD Daily: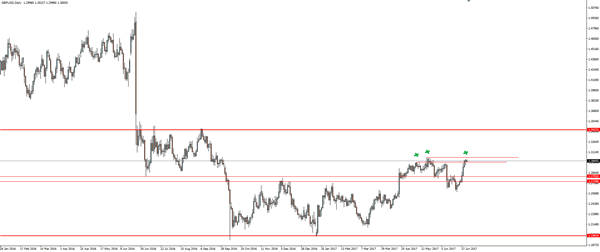 As you can see on the daily chart above, it's just a simple previous high that price has come back up to. There's nothing more to this level and there's nothing special about it while in the middle of that overall range.
With the bullish momentum behind that little push and the level having no significance other than a previous swing high, the level isn't as strong as it could be. However, if you do like the level and the risk reward that trading around it offers, step into an intraday chart like the hourly:
GBP/USD Hourly: