Just as it looked as though USDJPY was sleepwalking into bearish territory, it would appear the pair has found a new lease of life just in the nick of time.
Following in the footsteps of EURJPY and GBPJPY, it looked as though USDJPY was about to break below the Ichimoku cloud, taking it into bearish territory for the first time since the start of October (barring a brief dip below on 9 November).
Instead the pair could be heading higher once again having rallied off the bottom of the cloud to trade around 0.5% higher on the day and 100 pips up off the lows.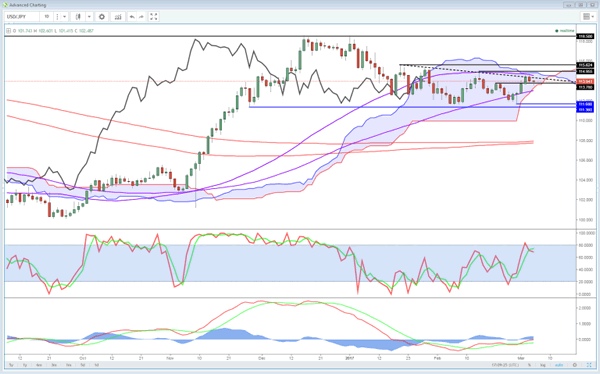 Whatever the trigger for the move – weaker GDP data from Japan overnight, weaker economic sentiment figures, stronger global risk appetite on the day – the only question that matters is whether it's sustainable or a short term shot in the arm that precedes a break below the cloud?
The first sign that the rally may have found new life again is the break of a short term trend line – 19 January highs – although this in itself is far from a clear signal. A much stronger sign would come from a break above 115 which would see the pair move back above the cloud and take out the 15 February and 3 March peaks and end the series of lower highs in the process.
More broadly speaking, the pair has been roughly range-bound since near the start of the year, with the upper end around 115.50 and lower around 115.50. A break out of this would be a clear sign that the pair has broken out of the consolidation period.
Should this be a break higher then we could be headed back towards 118.50 – which given the fundamental backdrop may make sense – while a break below the cloud would suggest further consolidation at best or a much broader sell-off at worst. The latter still seems quite unlikely at the moment.