EUR/USD
At the end of last week, the bulls failed to consolidate the resistance breach at 0.9821, and at the time of writing, they are again moving slightly below this level and seem to be just waiting for an opportune moment to attempt another breakout. If they manage to consolidate their breach this time around, then an opportunity to breach the next resistance at 0.9877 could be created. If the bears manage to prevail instead, then we could witness an attempt to breach the nearest support at 0.9738. At 14:00 GMT today, traders will turn their attention towards the news on the business activity index in the manufacturing sector, which could cause high volatility.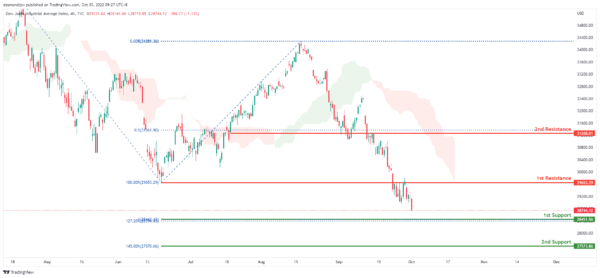 USD/JPY
The Ninja's trend from the end of last month has carried over into the beginning of October as well. The levels at which the Japanese yen has consolidated is the range of 143.76 – 144.85. At the time of writing, the bulls are moving closer towards the upper limit of the trend. In the event of a breach, we could witness an attempt to reach the next resistance at 145.88. The lack of news from the land of the rising sun can be taken as a sign that the currency pair will continue to move within the aforementioned limits.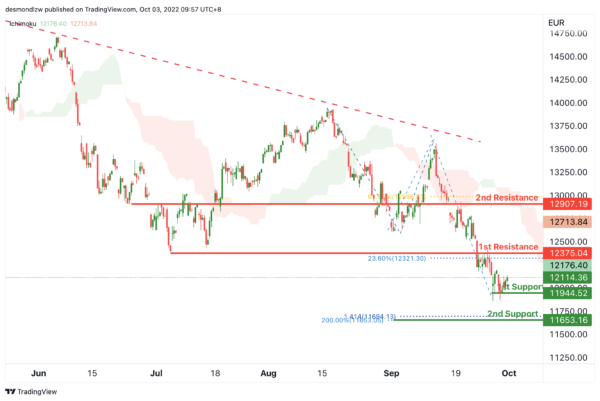 GBP/USD
On sterling territory, the bulls managed to consolidate their breach of the resistance at 1.1106, which also marked last week's peak performance. If they manage to take advantage of the accumulated momentum, then we could witness an attempt to breach the next resistance at 1.1216. On the other hand, if the bears manage to increase the selling pressure, then this could lead to an attempt to reach the support at 1.0887.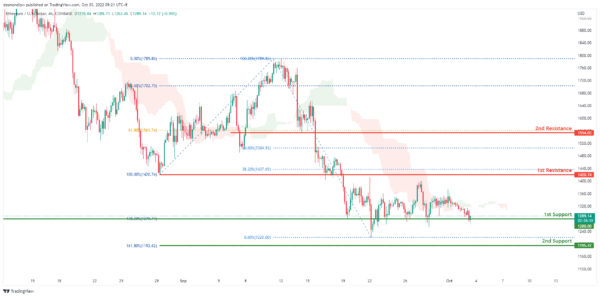 EUGERMANY40
The bears started today's trading session in the German index with an aggressive attack. At the time of writing, they are headed for the support at 11858. If they manage to break through and confirm the breach, then we will likely see an attempt to reach the next support at 11700. If the bulls manage to instead "show their horns", then a possible breach attempt of the psychological resistance at 12000 could become a likely scenario.
US30
For the bulls, the situation with the blue-chip index is not all roses, either. Bullish investors continue to lose ground quickly. The momentum of the bears could lead them to try to breach the support at 28300. If the breach is confirmed, we could even see the US30 trading below 28000. For reference, it has not been seen below this level ever since late October 2020. Today, investors will be closely monitoring the ISM manufacturing data for the U.S., which is due to be released at 14:00 GMT.