GBPUSD may lead to the formation of a global corrective trend – a triple zigzag w-x-y-x-z, in which the market builds the final actionary wave z of the cycle degree.
The wave z most likely takes the form of a primary triple zigzag, in which we see the development of the primary wave. It may take the double zigzag pattern (W)-(X)-(Y).
The formation of the intervening wave (X) has recently ended. There is a high probability that the last sub-wave (Y) will take the form of a zigzag A-B-C.
The end of the first impulse wave A is expected at a minimum of 1.095.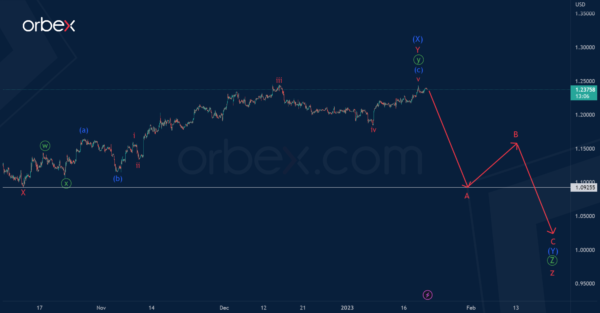 Alternatively, it is assumed that the cycle wave z could have been fully completed. Thus, we see that since the end of September, bulls have started to move the price up in a new trend.
Perhaps we are seeing the development of a primary triple zigzag, where the first four parts are already formed.
In the last section of the chart, the final actionary wave is formed. Most likely, it will be at 76.4% of wave and will end near 1.298.