Hello fellow traders. In this technical article we're going to take a quick look at the Elliott Wave charts of Bitcoin BTCUSD . As our members know, BTCUSD is showing impulsive bullish structure in the cycle 15431 low. We have been calling for the rally in the cryptocurrency after 3 waves pull back. Our team recommended members to avoid selling Bitcoin , while keep favoring the long side. In the further text we are going to explain the Elliott Wave Forecast.
Bitcoin ( BTCUSD ) Elliott Wave 1 Hour Chart 4.12.2023
Cycle from the 27236 low looks impulsive, however as of right now we see only 3 waves up. We assume wave iv red pull back is still in progress. Once correction completes BTCUSD should ideally see another leg up to complete the proposed short term cycle as 5 waves. At the moment structure of the pull back looks incomplete. We are calling for another leg down toward 29817-29394 ( buyers area). We don't recommend selling it and prefer the long side. The crypto is expected to find buyers in 3,7,11 swings. We expect to see at least 3 waves bounce from that zone or further rally toward new highs ideally.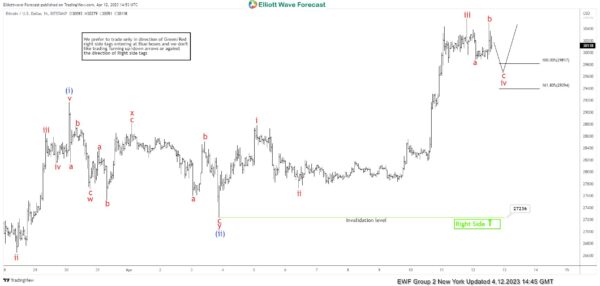 Bitcoin ( BTCUSD ) Elliott Wave 1 Hour Chart 4.14.2023
BTCUSD made the decline toward marked equal legs area : 29817-29394. Bitcoin found buyers and we are getting good reaction from there. It broke previous peak already, confirming v red of (iii) blue is in progress toward 30800-31145 area.