Hold on to your seats, folks! Bitcoin (BTC) is back with a vengeance, soaring past the $30 000 mark on April 11th, reaching its highest point since June 2022. And it's not just BTC – Ethereum (ETH) is also making gains, trading at $1917 and bagging 3.1% gains over the past day. But watch out for the Shanghai upgrade on April 12th, as it's expected to create some selling pressure on ETH and negatively impact its price. Still, with BTC and ETH up over 81% and 60% year-to-date, respectively, the crypto market is hotter than ever! In my article last week, I mentioned that the bulls might be back for Bitcoin, yet the lingering question is: how long can this move last?
BTCUSD – Weekly Timeframe
The bullish spring of Bitcoin prices has reached a key pivot zone that may serve as a resistance to push prices back down slightly. It is also worthy of note that the current price action is a consolidation move within a rising channel, with the trendline resistance overlapping with the pivot zone. Another important confluence is the presence of a drop-base-drop supply zone right inside the pivot zone. Suppose the consolidation holds without a significant break above the trendline resistance. In that case, we should see a retracement move on Bitcoin pretty soon – even though the overall trend is largely bullish.
Analysts' Expectations:
Direction: Bearish
Target: $23,100
Invalidation: $32,783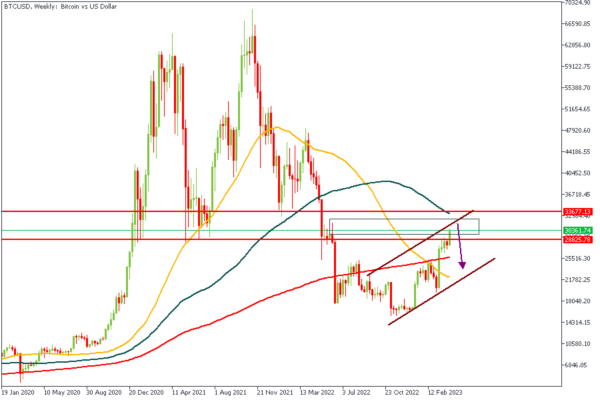 ETHUSD – Weekly Timeframe
Similar to what we saw on the Bitcoin chart, Ethereum is also inching toward its pivot zone. However, with the resistance trendline of the rising channel price currently trading inside, the 100-Period Moving Average is another indicator of a bearish movement. Even though I expect the overall direction to be bullish, there's nothing wrong with having a few bearish correction movements along the way.
Analysts' Expectations:
Direction: Bearish
Target: $1,613
Invalidation: $2,505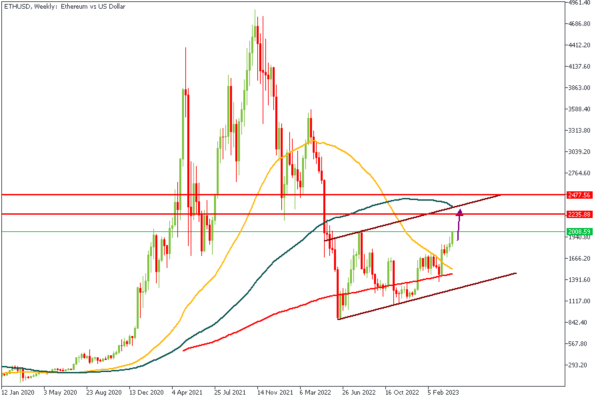 CONCLUSION
The trading of CFDs comes at a risk. Thus, to succeed, you have to manage risks properly. To avoid costly mistakes while you look to trade these opportunities, be sure to do your due diligence and manage your risk appropriately.