A bearish engulfing pattern (1) has formed on the gold price chart. Two facts make it important:
The pattern has formed at the line (2) of the resistance of the trend channel, originating at the end of 2019;
The pattern was formed against the background of the discussed news about the US economy, which affected the value of the US dollar.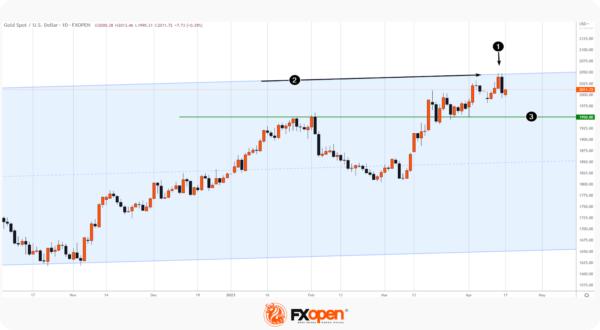 On Thursday, the price of gold rose (and the US dollar index fell to the lows of the year) after the publication of the Producer Price Index, and on Friday, gold fell sharply in price (and the US dollar index recovered accordingly) after the publication of data on retail sales which turned out to be below expectations (forecast: – 0.2%; actual: -1.0%).
The mixed movements can be interpreted as market participants trying to determine when the Fed can pause the tightening of monetary policy in order to curb high inflation. So far, it is expected that on May 3 the rate will be increased by 0.25%, after which a pause may follow.
From the lows of March, gold has risen in price by almost 13%. Having defined this movement as an impulse, we can assume that the bearish pattern is a sign of an incipient correction. In this case, the price of gold may drop to the $1,927-1,950 zone, formed by the support line (3) and the level of 50% of the impulse.