This morning the BTC/USD price is near 26,500, the lowest price since mid-June.
What is the reason for this? Among the drivers of the decline may be information that Elon Musk's SpaceX company intends to sell (or has already sold) USD 373 million worth of bitcoins. However, the collapse could have been influenced more by technical than by fundamental factors.
On August 8, we wrote that the ADX indicator fell to a minimum since the beginning of the year — that is, the market was in a protracted flat. It was a vulnerable position for the birth of a new impulse.
Note that the USD 30K psychological level acted as resistance in August — the price was not able to stay higher for long. It was logical to assume that the bears would try to take the initiative. And it happened this week — notice the widening bearish candles on August 15-16 as we approach the 28,800 support.
The decline triggered a cascade of stop-losses (more than USD 1 billion worth of positions on cryptocurrency exchanges were liquidated), which intensified the selling wave.
The chart shows that the price of BTC/USD today is near the median line of the descending channel, where the demand for cheaper bitcoins has balanced the supply. If the price continues to develop within this channel, we can see a new attempt to break through the psychological level of USD 25,000, which in mid-June led to a sharp increase in the price of bitcoins.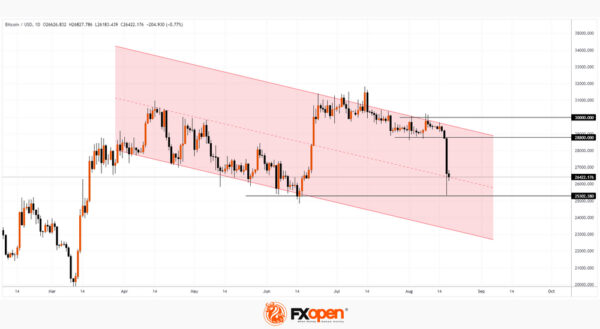 This article represents the opinion of the Companies operating under the FXOpen brand only. It is not to be construed as an offer, solicitation, or recommendation with respect to products and services provided by the Companies operating under the FXOpen brand, nor is it to be considered financial advice.