The crude oil market continues the buying momentum it started on Friday. As we begin this new week of October, the price of a Brent barrel has reached 91.00 USD.
The risk of an escalation in the conflict in the Middle East has noticeably increased, but commodity prices are in no hurry to correct. This means that the market sees a relatively high likelihood of complications.
Earlier forecasts from OPEC, the US Ministry of Energy, and the IEA had indicated moderate optimism about fuel demand in 2024. However, current expectations have become even more conservative.
The current price levels for crude oil seem justified, given the global risks.
Brent technical analysis
On the Brent H4 chart, prices have made a movement to 90.00 within a wave of growth. Today, the market is correcting to 89.00. Once this level is reached, a new upward wave to 93.00 could begin. This is a local target. Next, a correction to 89.00 might start (with a test from above), followed by growth to 95.00. Technically, this scenario is confirmed by the MACD, with its signal line above zero, firmly pointing upwards. The indicator is expected to reach new highs.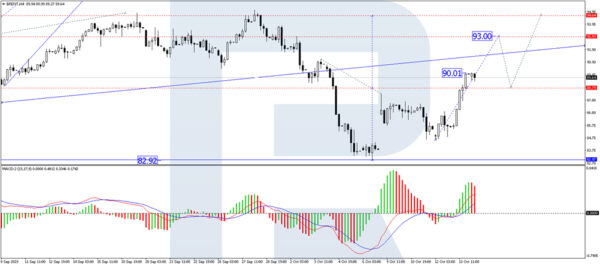 On the Brent H1 chart, prices have risen to 90.00. A corrective movement to 88.80 is forming today. A decline to 88.00 is not excluded. Next, a wave of growth to 90.00 might begin. Technically, this scenario is confirmed by the Stochastic oscillator, with its signal line currently pointing firmly downwards to 20. Next, it is expected to rise to 50, break this level, and reach the 80 mark.