The latest set of lacklustre US non-farm payrolls and ISM Services PMI data for October has reinforced further US dollar weakness.
The narrowing of the 2-year US Treasury yield over the 2-year China sovereign bond has negated the current major downtrend of the offshore yuan (CNH) against the US dollar.
A further breakdown below 7.2675 on the USD/CNH may trigger a potential tactical multi-month up moves in China and Hong Kong equities.
In the past week, the medium-term uptrend of the US dollar strength in place since mid-July 2023 has started to show signs of a potential multi-week bearish reversal in progress where the US Dollar Index broke below its 50-day moving average last Friday, 3 November where it has been acting as a support since early August 2023.
Two primary catalysts reinforced this current bout of weak US dollar movement; the less hawkish vibes from the recently concluded Fed Chair's Powell ex-post FOMC press conference and lacklustre key US economic data that came in below expectations; non-farm payrolls and ISM Services PMI for October.
Hence, it has shifted the dial on the expectations of the trajectory of the Fed funds rate where the expectations of the potential last 25 basis points (bps) hike pencilled in the December Federal Open Market Committee (FOMC) meeting has been greatly reduced to a mere chance of 4.6% from 19.2% seen a week ago based on data implied by the 30-day Fed funds futures.
In addition, an increase in the expectation for the first Fed funds rate cut of 25 bps has been brought forward as early as May next year with a chance of 71%.
All in all, these sets of interlinked movements have triggered softness in both the long and short end of the US Treasury curve which in turn reduces the US Treasury yield premium against the rest of the world.
USD/CNH is looking vulnerable after the bearish breakdown of its 50-day moving average
Fig 1: USD/CNH medium-term trend as of 6 Nov 2023 (Source: TradingView, click to enlarge chart)
The major downtrend seen in the Chinese offshore yuan (CNH) against the US dollar has been negated where the USD/CNH pair has broken down the 50-day moving average and now looks vulnerable for a crack below its immediate support at 7.2675 to expose further potential weakness towards the key 200-day moving average acting as a support at 7.1200.
Also, the 2-year yield premium of the US Treasury note over China sovereign bond of similar maturity has continued to narrow which in turn also advocates further US dollar weakness.
Further USD weakness may benefit China and Hong Kong equities in the medium-term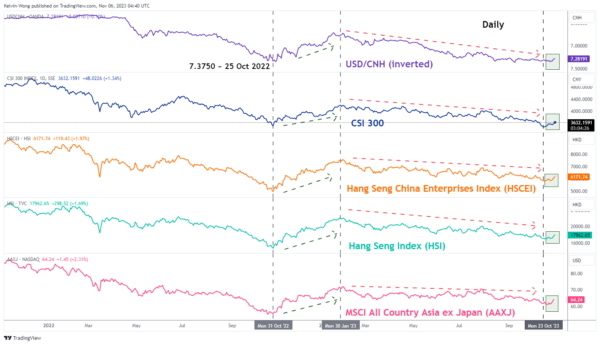 Fig 2: Correlation of USD/CNH with CSI 300, HSI, HSCEI & AAXJ as of 6 Nov 2023 (Source: TradingView, click to enlarge chart)
Given the high direct correlation between USD/CNH (inverted) with the China and Hong Kong benchmark stock indices; CSI 300 Hang Seng Index (HSI), and Hang Seng China Enterprise Index (HSCEI) since late October 2022, further potential weakness in the USD/CNH towards its 200-day moving average may trigger a potential medium-term (multi-month) positive feedback loop into China and Hong Kong equities in general.
In the longer-term perspective, a more sustainable recovery in China and Hong Kong stock markets is more dependable on removing the persistent liquidity crunch in China's property development sector, and the normalisation of US-China relationships in terms of geopolitical and commercial. Unfortunately, the emergence of positive developments in these key aspects is still murky.