Speculation persists regarding the Bank of Japan's potential departure from negative interest rates, yet the USD/JPY maintains its position within a 150–152 range for seven consecutive sessions. Caution is warranted due to a weaker-than-expected Q3 GDP, a slump in imports, and a more moderate increase in exports, despite inflation remaining elevated. While other central banks approach the conclusion of their rate hike cycles, signals indicate the likelihood of impending Yen strength. BoJ Governor Kazuo Ueda suggests a forthcoming decisive policy move, eliminating the necessity for wage growth to tighten policy. Deputy Gov. Shinichi Uchida explores plans to encourage firms to increase wages, potentially providing forward guidance to break the yen from its current range.
USDJPY – D1 Timeframe
USDJPY on the Daily timeframe is currently trading within a channel right inside a weekly-timeframe supply zone. Even though the clear conclusion should be a bearish sentiment, I would consider this a two-way possibility until the break and retest of the trendline support, since it overlaps the 50-day moving average. My target, in the case of a breakout, would be the 100-day moving average support.
Analyst's Expectations:
Direction: Bearish
Target: 146.600
Invalidation: 152.039
AUDJPY on the daily timeframe has already been rejected from the supply zone, giving a clear indication of what the direction is expected to be – bearish! With this in mind, my target would be the demand zone as marked, since it aligns perfectly with the trendline support.
Analyst's Expectations:
Direction: Bearish
Target: 96.211
Invalidation: 97.780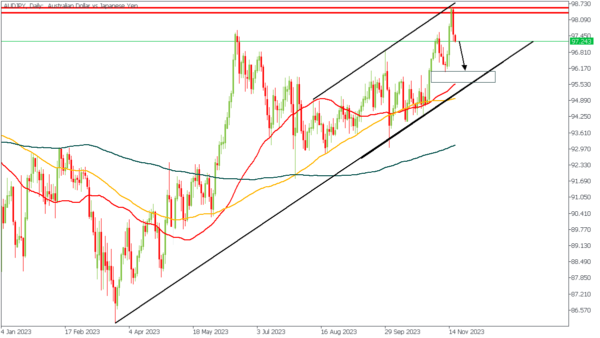 CADJPY – D1 Timeframe
CADJPY is, in my opinion, a no-brainer. On the chart, we can clearly see the supply zone price is currently being rejected from, as well as the demand zone price is likely heading towards. This makes it quite easy to decipher the market sentiment as being bearish.
Analyst's Expectations:
Direction: Bearish
Target: 108.469
Invalidation: 109.672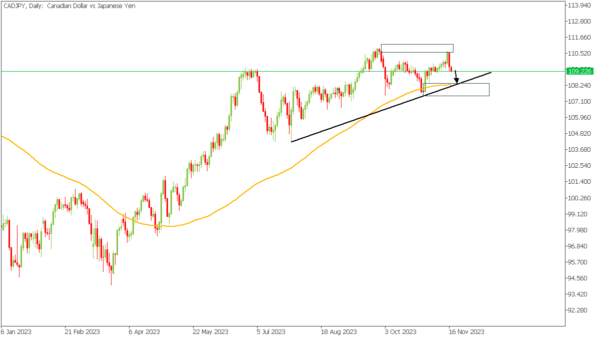 CONCLUSION
The trading of CFDs comes at a risk. To succeed, you have to manage risks properly. To avoid costly mistakes while you look to trade these opportunities, be sure to do your due diligence and manage your risk appropriately.