Following this daily EUR/CAD support level that we featured on the blog back in February, longs were the obvious play and traders obliged.
But after a 750 pip rally, the pullback as the longs started to cover hit. Something you can then clearly see with a 350 pip straight line drop from the last swing high.
From a technical point of view however, nothing has actually changed. Price is still above the higher time frame support level and if you perceive this latest fall as healthy long covering then you expect the shorts to be absorbed and a new push higher.
Taking a look at the daily chart now, look I want to highlight where price has pulled back to now:
EUR/CAD Daily: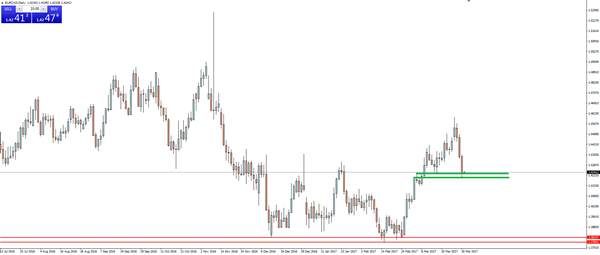 This is a nice little area of interest that has acted as short term support/resistance in the past and if you subscribe to the above opinion of this just being a healthy pullback then this is an area to watch how buyers react within.
Just keep in mind that you can see around 175 pips below the marked level, there is another one of these areas of interest. Wait and see how price reacts around them, but if you're still long from the daily support level, then you have the pips and room to use either of these levels to manage your risk around if you add into your position.