WTI crude oil dropped sharply overnight to as low as 70.02 before closing the regular session at 70.38. It's now staying soft at around 70.75. It's originally lifted by larger than expected US inventory decline but than pressured as Libya resumed production. The Libya's National Oil Corp. said that it would lift the force majeure on several major export terminals and resume shipments of oil. That would mean some 700k bpd to come back online even though it's uncertain how quickly exports can return to normal.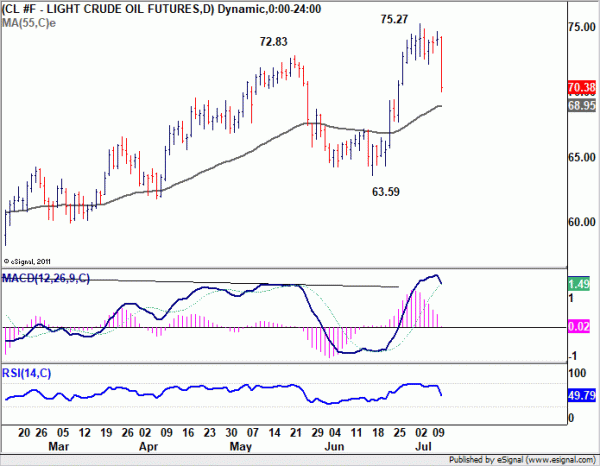 Also, oil price seemed to be benefited from earlier comments from US Secretary of State Mike Pompeo too. Pompeo was quoted saying that "there will be a handful of countries that come to the United States and ask for relief from that. (Iran sanction). We'll consider it." Though he also emphasized that "make no mistake about it, we are determined to convince the Iranian leadership that this malign behavior will not be rewarded and that the economic situation in their country will not be permitted to be rectified until such time as they become a more normal nation."
The development also pushed USD/CAD sharply higher, after it dipped following hawkish BoC rate hike. As expected in our technical report, 1.3067 key near term support was defended well. With 1.3173 minor resistance taken out and BoC risk cleared, USD/CAD maintained bullishness and is heading back to retest 1.3385 high.