Euro seems to be troubled by a Washington Post story that Trump insists on, ignoring the outcries from Republicans and business executives, pushing through 25% auto tariffs. That came just ahead of the meeting with EU Juncker. Earlier today, there was an ABC story saying that Juncker is bringing offers to Trump to avert a trade war. But that's on condition that Trump has to drop tariffs on steel and aluminum first.
As we pointed out before, there is no common ground for negotiation between Trump and the EU. From his recent tweets and talks, Trump will continue to play victim and request EU to act before he drops the tariff threats. EU, on the other hand, will insist on Trump dropping the gun first before starting the talk.
But most importantly, Trump, and to a certain extent his supporters, views BOTH EU and China as threat to the US hegemony. When national security can be used as an excuse to impose tariffs on the closest allies in Canada, tariffs can be also used as a excuse for some agenda other than trade. It's widely known that tariffs won't solve global imbalances. The economists know it. Trump's advisors and himself certainly know it. So, it's totally unsurprising for Trump to insist on auto tariffs.
But after all, we'd like to emphasize that while EUR/USD's dip may look wild in a 1 min chart, but it's peanut, nothing, in an hourly chart, not to mention a 4H chart. Always look at the big picture. EUR/USD is in consolidation. And anything goes inside a corrective pattern.
EUR/JPY's is an extension of the decline from 131.97. We've mentioned in the technical outlook that EUR/JPY is heading back towards 127.13 support because the rebound form 124.61 has completed with three waves up to 131.97, on bearish divergence condition in 4 hour MACD. So the decline is not a surprise neither.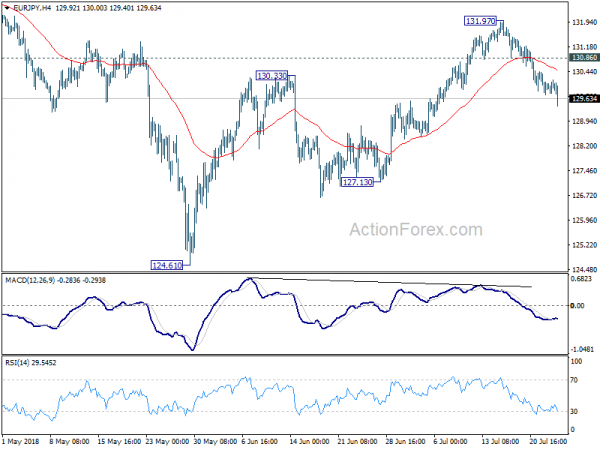 And, EUR/GBP is just having some jitters!