Eurozone PMI services was finalized at 54.7 in September, unrevised, up from August's 54.4. PMI composite was finalized at 54.1, down from August's 54.4.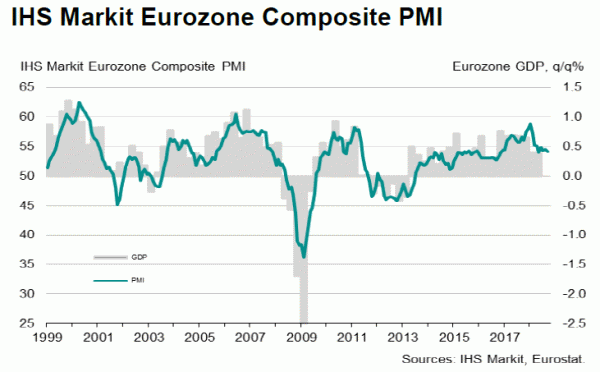 Among the countries, German PMI services hit 2-month low at 55.0. France PMI services dropped to 21-month low at 54.0. Spain PMI services dropped to 58-month low t 52.5. But Italy PMI services improved slightly to 2-month high at 52.4.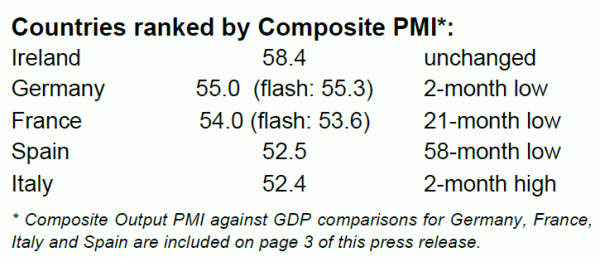 Chris Williamson, Chief Business Economist at IHS Markit said:
"Context is everything: although running close to a two-year low, the disappointing September PMI remains at a relatively elevated level and signals solid growth. Comparisons with official data indicate that the survey data are equivalent to GDP rising by almost 0.5% in the third quarter.
"Note that the PMI data also indicate that we can expect the official growth estimates for the first half of the year to eventually be revised higher.
"However, the fourth quarter is unlikely to see such robust growth, as recent months have seen a clear loss of momentum in terms of both output and new order gains.
"The most worrying signs come from exports. Trade flows have more or less stalled, which represents a marked contrast to the record rate of export growth seen at the end of last year. While service sector growth remained resilient in September, it would be unusual for this to be sustained in the absence of improved manufacturing growth.
"Similarly, while employment gains remained historically high, a steady erosion in the rate of order book growth so far this year suggest the appetite to hire will soon wane without any notable upturn in new order inflows.
"With business confidence about the outlook running at one of the lowest seen over the past two years, companies are clearly not expecting any such imminent turn-around in demand."