Eurozone PMI services was finalized at 53.7 in October, down from prior month's 54.7. PMI composite was finalized at 53.1, down from September's 54.1. Among the countries, Italy PMI composite dropped to 49.3, a 59-month low. German PMI composite also dropped to 5-month low at 53.4.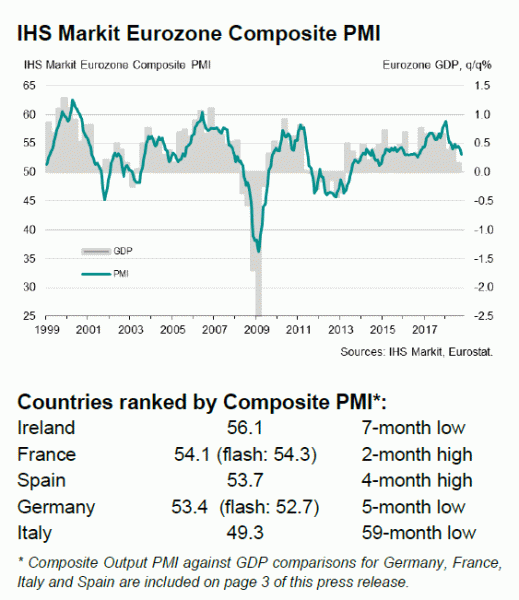 Chris Williamson, Chief Business Economist at IHS Markit said:
"Eurozone companies reported a disappointing start to the fourth quarter. Business activity is growing at its slowest rate for over two years and expectations have slumped to the bleakest since the end of 2014.
"An export-led slowdown, linked to growing trade tensions and tariffs, has been exacerbated by rising political uncertainty, growing risk aversion and tightening financial conditions. The slowdown has consequently become more broad-based to increasingly envelop the services economy.
"While the PMI numbers hint at an upward revision to the 0.2% flash estimate of third quarter GDP growth, it's clear that the economy has slowed and that the weakness has intensified into the fourth quarter.
"Italy has recorded an especially noticeable slowdown, slipping into decline during October, whilst Germany has also seen a worrying easing of growth, with both countries affected by rising political uncertainty. France and Spain, in contrast, have seen more resilient business conditions, though both are registering much slower growth than earlier in the year."