US treasury yield closed higher overnight after FOMC statement. The decision to stand pat was widely expected. One surprise was probably the lack of reference to the stock market crash in October. Fed policymakers appear to be not bothered by it at all. Five-year yield closed up 0.029 at 3.090. 10-year yield rose 0.021 to 3.234. 30-year yield, though, was just up 0.002 at 3.427. Treasury yields could now be resuming up trend and might help Dollar regain momentum.
Technically, five-year yield breached 3.092 resistance to 3.095 before closing at 3.090. The development suggests that recent medium term up trend is likely resuming. The strong support by 55 day EMA is a bullish sign. FVX should be heading to 61.8% projection of 1.618 to 2.941 from 2.692 at 3.509 next.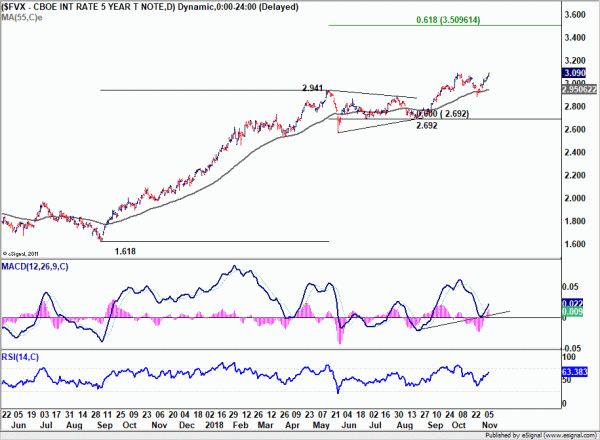 10-year yield lags behind a little as it's limited below 3.248 resistance so far. But based on current momentum, and the strong support from 55 day EMA too, TNX should take out 3.248 to resume the up trend soon, maybe today, maybe next week. Next target is 61.8% projection of 2.034 to 3.115 from 2.808 at 3.476.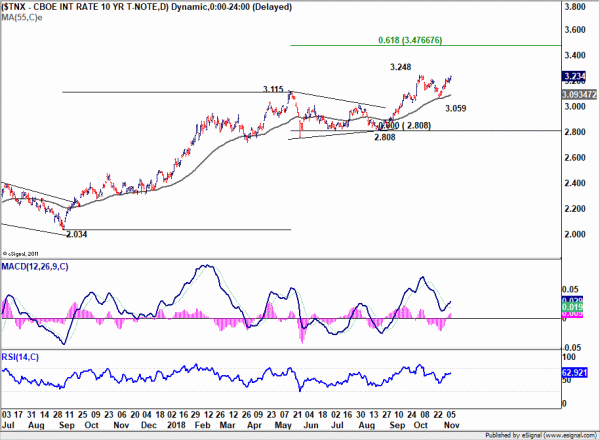 Meanwhile, 30-year yield has actually taken out equivalent resistance last week already. And prior retreat from 3.424 was held well above 55 day EMA, indicating even more bullishness. TYX is also expected to extend recent up trend to 61.8% projection of 2.651 to 3.247 from 2.963 at 3.559.