Germany PMI manufacturing dropped to 47.6 in February, down from 49.7 and missed expectation of 49.9. That' the lowest level in 74 months. PMI services, however, rose to 55.1, up from 53.0 and beat expectation of 52.9. PMI composite improved slightly to 52.7, up from 52.1.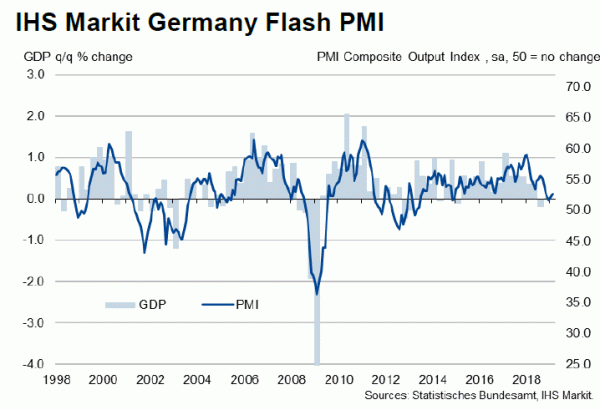 Commenting on the flash PMI data, Phil Smith, Principal Economist at IHS Markit said:
"Germany's manufacturing and service sectors remain on very different paths, according to February's flash PMI data. While strong fundamentals in the domestic market are driving growth in services business activity, falling exports continue to weigh on the performance of the manufacturing sector. Measured overall, the data remain indicative of a very modest rate of underlying output growth.
"The manufacturing PMI fell further into contractionary territory in February to its lowest in over six years, with sustained robust job creation at factories the only positive takeaway. The strength in employment is perhaps surprising given the order book situation and lack of pressures on capacity, but goods producers are seemingly looking through the current soft patch in demand.
"In terms of the factors behind the slowdown in manufacturing order books, many of the usual suspects – the uncertainty relating to US-China trade tensions and weakness in the autos industry – were highlighted, although there were also reports of growing competitive pressures within Europe."