Eurozone PMI manufacturing dropped to 49.2 in February, down from 50.5 and missed expectation of 50.3. That's the lowest level in 69-month. PMI services, however, rose to 52.3, up from 51.2 and beat expectation of 51.3. PMI composite improved to 51.4, up from 51.0.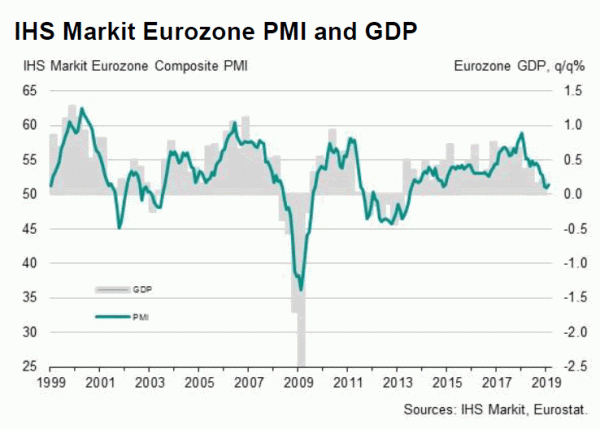 Commenting on the flash PMI data, Chris Williamson, Chief Business Economist at IHS Markit said:
"The Eurozone economy remained close to stagnation in February. The flash PMI lifted only slightly higher during the month, continuing to indicate one of the weakest rates of expansion since 2014. The survey data suggest that GDP may struggle to rise by much more than 0.1% in the first quarter.
"Germany is on course to grow by 0.2%, buoyed by its service sector, but France looks set to stagnate or even contract very slightly. The rest of the region is meanwhile suffering its worst spell since late- 2013, with growth having slipped closer to stalling in February.
"Some uplift was also seen as companies stepped up preparations ahead of Brexit and disruptions from the 'yellow vest' protests in France eased. However, the general picture remained one of a more subdued business environment than seen throughout much of last year.
"Weaker order books were linked to a combination of intensifying headwinds and concerns, including global trade protectionism worries, Brexit, the downturn of the auto sector, increased political uncertainty and anxieties regarding the broader economic outlook. Rising risk aversion has consequently dampened demand, investment and spending.
"The weakness is being led by manufacturing, which has now entered its first downturn since mid- 2013. With factory order books deteriorating at an increased rate, the rate of contraction in the goodsproducing sector will likely worsen in coming months.
"Solid domestic demand in many countries, notably Germany, continued to help support service sector growth and offset the downturn of the manufacturing sector. However, the overall rate of service sector growth remained relatively moribund compared to that seen throughout much of last year.
"Price pressures have meanwhile continued to ease alongside the more subdued demand environment."