Eurozone Sentix Investor Confidence rose to -0.3 in April, up from -2.2 and beat expectation of -2.0. That's already the highest figure since November 2018. Expectations Index rose for the third month in a row to -4.3, highest since May 2018. However, Current situation index dropped for the eighth month to 3.8, lowest since February 2015.
Sentix noted that "signs in China are increasingly pointing to an upswing". And, should there be an additional settlement in US-China trade negotiations, European economy could also see a turn around. Also, since both US and China are still in the upswing, "positive feedback to Europe is not expected to be absent in the coming months"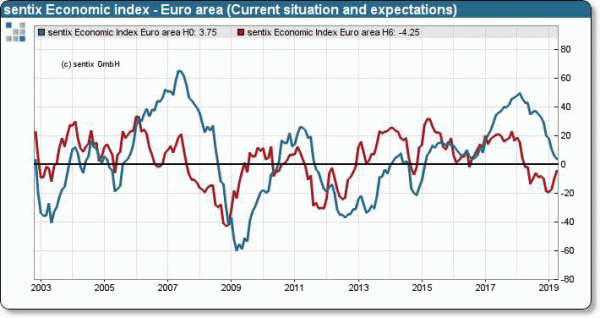 However, Germany's Overall Index dropped to 2.1, lowest since August 2012. Current Situation index dropped to 10.5, sixth decline in a row and lowest since April 2010. Expectations index rose for the third month 10 -6.0, highest since March 2018. Germany is now "one of the regions with the weakest economic momentum". "Collapse" of situation values is "worrying". Sentix added that "it would be positive if Germany did not rely on China and the USA alone, but sought to make its own contributions to economic stabilization.