German ZEW Economic Sentiment improved to 3.1 in April, up from -3.6 and beat expectation of 0.5. Current Situation index, however, dropped to 5.5, down from 11.1 and missed expectation of 8.5. Eurozone ZEW Economic Sentiment Rose to 4.5, up from -2.5. Eurozone Current Situation index dropped -6.6 pts to 13.2.
ZEW President Professor Achim Wambach: "The slight improvement recorded by the ZEW Indicator of Economic Sentiment is largely based on the hope that the global economic environment will develop less poorly than previously assumed. The postponement of the Brexit deadline may also have contributed to buoy the economic outlook. By contrast, the latest figures regarding incoming orders and industrial production in the German industry point to a rather weak economic development."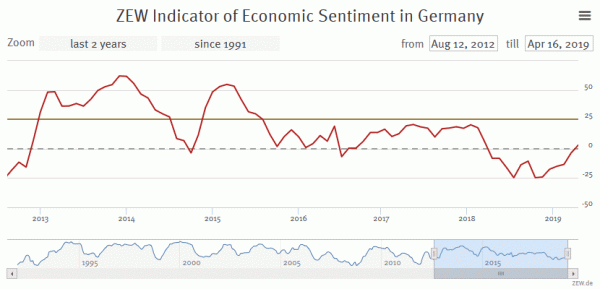 EUR/USD weakens after the release.